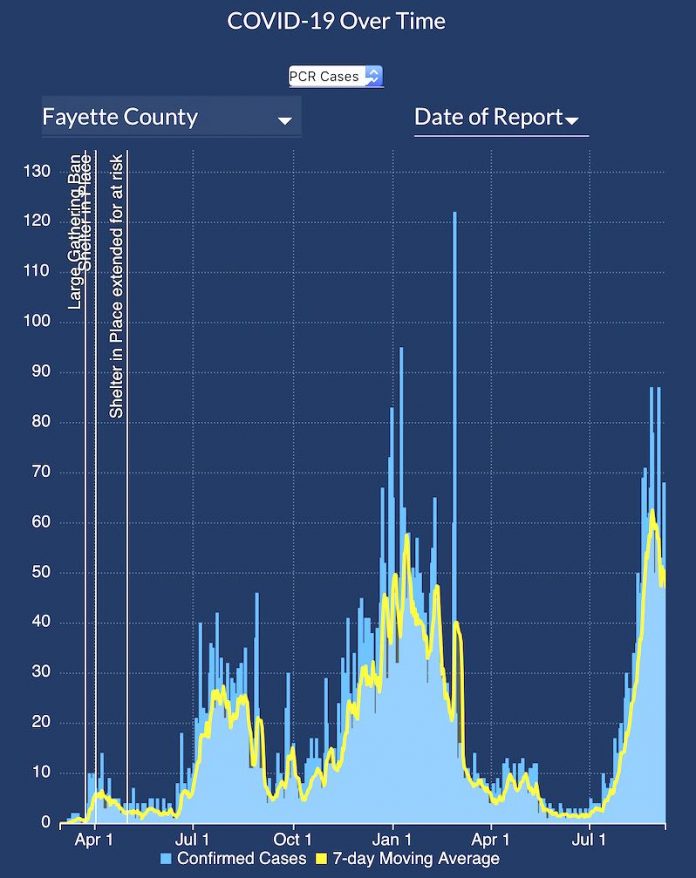 The late summer surge of Covid-19 shows signs of having peaked, and case numbers continue to decline across both Georgia and Fayette County, according to data from the Georgia Department of Public Health Sept. 9.
The closely watched 7-day moving average of cases in Fayette has fallen from a pandemic high of 59.1 average daily cases on Sept. 1 to a current level of 47 average daily cases as of Sept. 9, DPH data shows.
Fayette's 2-week new cases topped out at 830 on Sept. 3 and has since fallen to a 2-week count of 727 as of Sept. 9. New test-confirmed cases in Fayette were 67 on Wednesday and 27 on Thursday, bringing the county's pandemic total to 8,759 since March 2020.
The county death toll reached 175 Sept. 9, an increase of 5 since the first of the month. Fayette's pandemic death rate is now at 1.99%, or nearly 2 fatalities for every 100 confirmed cases.
Numbers of Fayette residents hospitalized for Covid has seen a big jump during the first days of September, with 34 hospital admissions since Sept. 1.
Across the state the biggest concern is bulging hospital admissions. Statewide charts shown below are dramatic: 2,999, or 97.8% of all available ICU beds are filled. The statewide data on numbers of patients in hospitals shows a pandemic peak of slightly more than 6,000 Covid patients is slowly dropping as well. The concentration of Covid patients peaked in recent days at more than 35% of all hospital patients, but has fallen slightly to just under 34% — not a big drop, but a decline nevertheless.