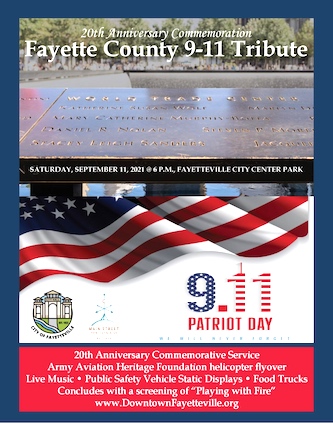 Twenty years ago, the world was shaken by the tragic events that unfolded on the morning of Sept. 11 in New York City, Washington, DC, and Pennsylvania. On this Saturday, Sept. 11, 2021, the city of Fayetteville along with local Veterans of Foreign Wars and American Legion posts will host the Second Annual Fayette County 9-11 Tribute on the Great Lawn of Fayetteville's new City Center Park.
The free event, which begins at 6 p.m., is a family-friendly opportunity for the community to come together and remember those innocent victims who died 20 years ago, the brave first responders who risked their lives and died on that day, as well as the valiant U.S. Military service members who have fought in the War on Terrorism for the past two decades.
A special acknowledgement will be made for the 13 service members who were killed in the recent terrorist attacks in Afghanistan during the U.S.-led evacuation operation.
The program of special music and speakers will be followed by a free screening of the hit film "Playing with Fire" (Rated PG) at dusk. Guests are invited to bring their own chairs and blankets to sit on the Great Lawn. Social distancing between groups is encouraged, and hand sanitizing stations will be available.
Leading out at the event will be soloist LaVada Vaillancourt-McCosh singing the National Anthem, which will be punctuated by an Army Aviation Heritage Foundation helicopter flyover. Several musical selections will be performed by Music Alive and the Flat Rock A.M.E. Church Choir, and the program will be rounded out by the entire Starr's Mill High School Chorus.
In between musical performances, spoken tributes will be delivered by Fayetteville Mayor Ed Johnson, Fayetteville Fire Chief Alan Jones, state Representative Josh Bonner, American Legion Past National Commander Dale Barnett, American Legion Chaplain Jim Young, and Master of Ceremony Stephen Walker. The invocation will be delivered by Dr. Thomas Martin, pastor of Fayetteville First United Methodist Church. Colors will be presented by the Fayette County High School Junior R.O.T.C.
Static public safety displays, vendor booths, and food trucks will be on site and open to the public by 5 p.m. Cash and credit card payments will be accepted. Food trucks scheduled for the event include Papa's Hot Dogs & Brats, Breakfast on the Run, and Hyppo Mayday Ice Cream & Pops. Mama Dee's Fye Popcorn will also have a booth.
Free onsite parking will be available at Fayetteville City Hall & City Center Park. Overflow parking will be available at the Fayette County Administrative Complex.