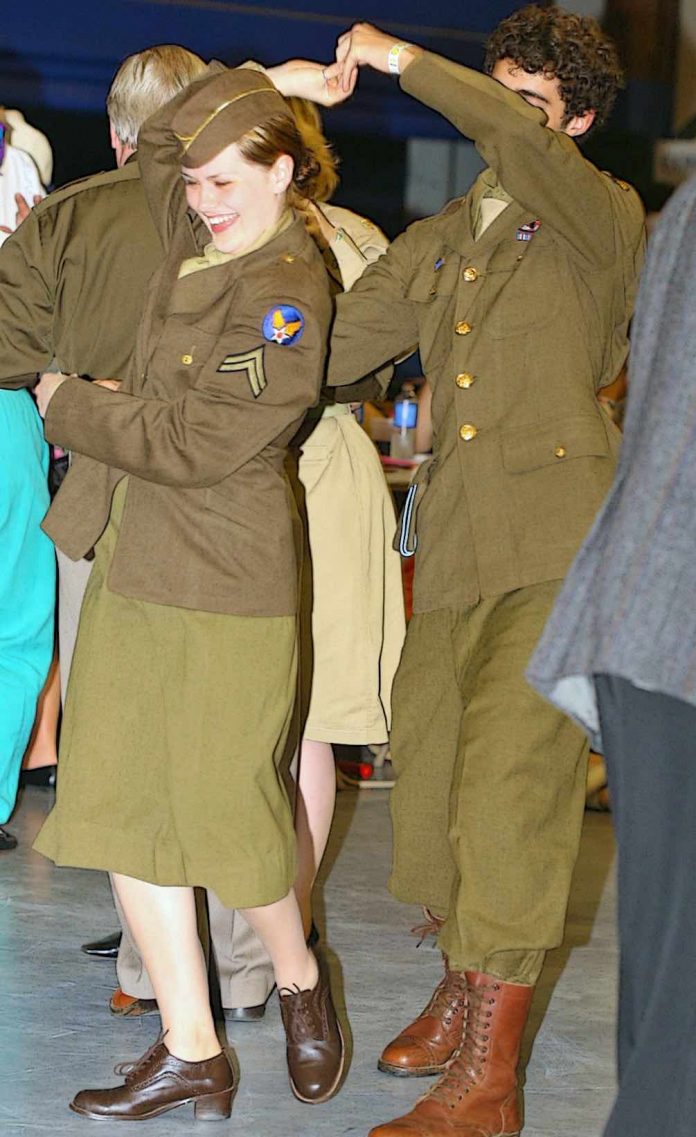 Commemorative Air Base Georgia is offering companies and organizations an opportunity to show support for the Greatest Generation, the men and women who won World War II.
Tickets and sponsorships are available for "Keep 'em Flying," a hangar dance and dinner set in an aviation museum surrounded by historic WWII aircraft and decorated to recreate the iconic mood of the 1940s.
The festivities take place from 6 p.m. to 11 p.m., Saturday, Sept. 25, at the CAF Airbase Georgia Warbird Museum, Atlanta Regional Airport-Falcon Field, Peachtree City.
Sponsorships are a great opportunity to salute the Greatest Generation and support CAF Airbase Georgia. Information and applications for sponsorship are available at wwiidays.org. Sponsor levels are:
• Gold ($1500) – 1 VIP table, banner display opportunity, $100 Airbase Georgia airplane ride discount.*
• Silver ($1,000) – 4 tickets at a reserved table, sponsor visibility, $50 Airbase Georgia airplane ride discount.*
• Bronze ($500) – 2 tickets at a reserved table, sponsor visibility.
(*Must be used by Dec. 31, 2021, subject to aircraft availability.)
Tickets for "Keep 'em Flying" are $100 and may be purchased online only. Reserved tables are available. For more information or to purchase tickets, visit www.wwiidays.org.
Expect to enjoy a full evening of swing dancing and '40s music, a catered dinner, and the chance to share memories and fun with family and friends.
"We welcome community participation and the opportunity to extend the work and educational outreach of CAF Airbase Georgia," said Airbase leader Jim Buckley. "We already have statewide elementary school education units and are working with local high schools and state universities to advance knowledge and interest in aviation and aviation careers."
"Keep 'em Flying" guests will hear the Peachtree Jazz Edition perform standards made famous by Glenn Miller, Tommy Dorsey and Benny Goodman. Described as one of the best bands in Atlanta, the Peachtree Jazz Edition is returning for the 17th straight year.
"A 1940s-theme hangar dance combines fashion and timeless music," said Kym Hughes, Executive Director of the Peachtree City Convention and Visitors Bureau. "We look forward to hosting Big Band enthusiasts and swing dancers from throughout Georgia." Black-tie, 1940s attire and historic uniforms encouraged, but not required.
As a long-time advocate of preserving and teaching WWII history, CAF Airbase Georgia also hosts WWII Heritage Days, the oldest and largest World War II-theme event in Georgia, on Saturday, Oct 9, 2021. WWII Heritage Days was designated a Top 20 Event by the Southeast Tourism Society in May 2020.
The CAF Airbase Georgia, based in Peachtree City, Ga., was founded in 1987. The Airbase, one of the largest units of the Commemorative Air Force, maintains and flies seven WWII aircraft including a P-51 Mustang, an FG-1D Corsair and rare types such as the SBD Dauntless dive bomber and P-63A Kingcobra.
The unit, composed of 400 volunteers, is a non-profit, tax-exempt organization that relies on contributions of time and funds to carry out the mission of the CAF.