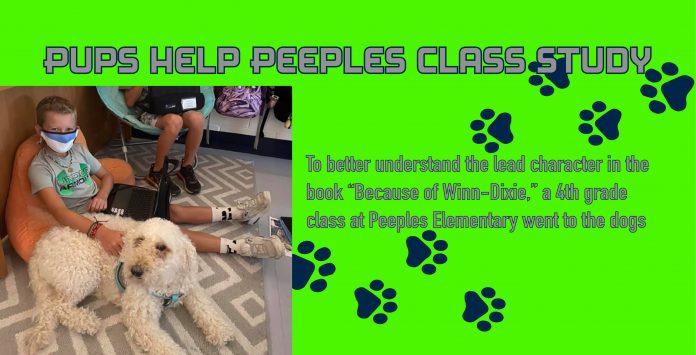 Furry special guests helped a class at Peeples Elementary do a deep dive into a book study. Tabatha Schwanbeck's 4th grade class celebrated reading "Because of Winn-Dixie" with a classroom visit from pups to see how dogs can change a character's motivations and provide comfort during difficult times.
"Because of Winn-Dixie" is a book by Kate DiCamillo about how a new dog helped a lonely 10-year-old girl make friends in her new small town, build a stronger bond with her distant father, and learn to let go of the hurt she feels over her mother's abandonment.
To better understand the lead character's motivations, feelings, and actions, Schwanbeck arranged for a couple dogs to visit their classroom.
"My students were able to understand first-hand how a dog was able to provide comfort to the main character," said Schwanbeck. "The students enjoyed having the dogs in our classroom. We discussed how dogs provided unity, calmness, and provided companionship."