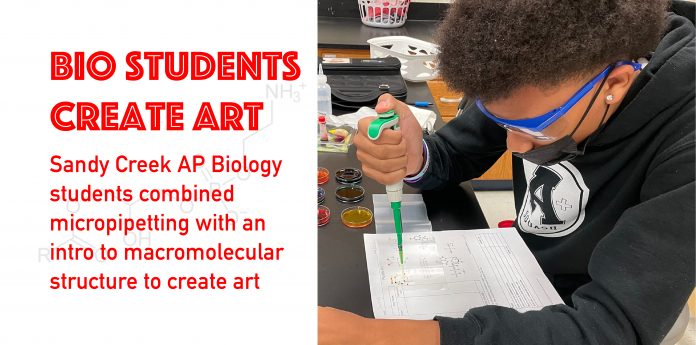 They weren't in art class, but students in Jill Lloyd's AP Biology class at Sandy Creek created their own kind of art. They combined micro-pipetting practice with an introduction to macromolecular structure to create macromolecule art.
With the micropipette, a tool for handling volumes of liquid in minuscule amounts, students used colored water to fill out a diagram of the four major macromolecules: carbohydrates, lipids, proteins, and nucleic acids.
Each macromolecule plays a different role in organisms, and the activity allows students to visually see major differences and relate these structural differences to the functions. For example, lipids are used as a long-term storage of energy and provide insulation. As students build the molecule, they understand that the reason why lipids have these functions is because they are very large and have many bonds that release energy when broken.
Thanks to their macromolecule art, these students will be ready to make masterpieces of their grades when they move on to genetics.