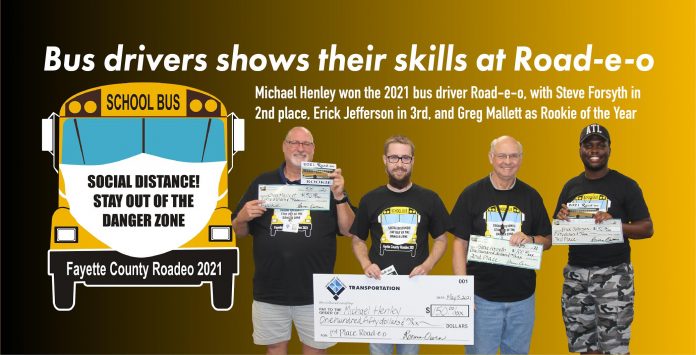 Fayette County's bus drivers aren't just passionate about getting students to and from school safely, they're top-notch behind the steering wheel. At the annual Fayette County Road-e-o, drivers showed off their talent maneuvering big yellow buses.
As part of the competition, drivers take a written exam testing their knowledge of safety rules and traffic laws before getting behind the wheel for an obstacle course challenging a number of skills like precision driving, turning, backing up, and parallel parking.
Michael Henley won the Road-e-o, with Steve Forsyth in 2nd place and Erick Jefferson in 3rd. Greg Mallett won Rookie of the Year.
Other drivers competing were Marguree Threatt, Dewey Patterson, Tara Bradshaw, Hajara James, Christy Turner, Richard Carter, Hilaire Pierre-Louise, Gerald Wallace, Sheila Williams, Sue Holliday, and Rebecca Bishop.
Director of Transportation Roxane Owen, who is leaving the school system at the end of the year, even took part in the competition. In Roxanne's last Road-e-o, she came in an impressive 5th place overall.
The top two performers, Henley and Forsyth, typically would represent Fayette County at the State School Bus Safety Competition, but it has been canceled this year due to COVID-19.