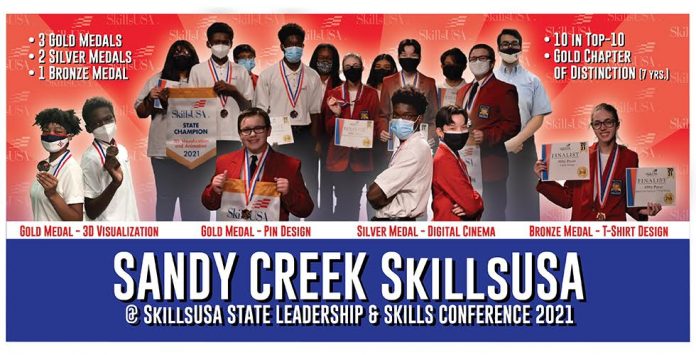 Sandy Creek High showed off a wide array of skills as they competed at the SkillsUSA Georgia State Leadership & Skills Conference. Among a range of competitions, four Patriots medaled, with two winning gold to advance to the national conference.
The duo of Jawanza Blue and Sidney Patterson won gold in 3D Visualization & Animation, and Caleb Dykes won for Pin Design & Presentation. Both championships earn a spot at the National Leadership & Skills Conference.
Lilly Hsu & Gabriel Mensah teamed up for a 2nd place finish in Digital Cinema, and Abby Paver placed 3rd in T-Shirt Design & Presentation.
Among other competitions, the team of Jawanza Blue, Denny Hall, Sidney Patterson, and Andrea Rodriguez placed 5th in the SkillsUSA Georgia Commercial category. Other placements include Ben Dykes in 7th for Job Skill Demonstration, Abby Paver in 7th for SkillsUSA Georgia T-Shirt Design, Caleb Dykes in 9th for SkillsUSA Georgia Pin Design, Arianna Simpson in 11th for Advertising Design, and Danielle Howard in 12th for Job Interview. Lindsey Ochoa also competed in the Job Skill Demonstration category.
The Sandy Creek SkillsUSA team is under the leadership of advisor Jeff Dykes. The Patriots SkillsUSA team has been named a Gold Chapter of Distinction for seven years.