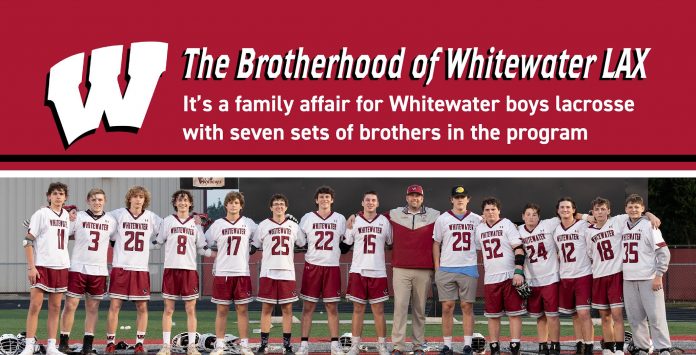 It's a family affair for the Whitewater High boys lacrosse program. A sports team can be like a brotherhood, but the Wildcats are taking it literally with seven sets of brothers currently playing in the program.
They are the Crawford brothers Evan and Ethan, the Hill brothers TJ and Joshua, the Kleppinger brothers Cooper and Samuel, the Owen brothers Grant and Gavin, the Sims brothers Jacob and Dawson, the Spears brothers Taylor and Saywer, and the Thomas brothers Warren and Wyatt.
The close bond of the team is working, too. For the first time in school history, the Wildcats are area champions.
They're hitting their stride, and the bloodlines are building a foundation of success.
"These guys are a part of making history and leaving a legacy," said head coach Evan Bryant. "The good thing is only two are seniors, so many of them will be back for years to come."