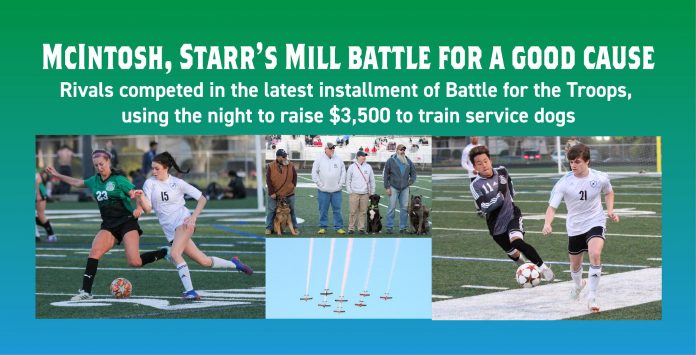 Each year, the soccer rivalry between McIntosh and Starr's Mill pits two of the state's top programs in an intense and exciting matchup, and the 2021 did not disappoint. With region championships on the line, the squads teamed up for a bigger cause, raising money at this season's Battle for the Troops to help Tails of Hope train service dogs.
In the opener, the girls game featured the #3 ranked Lady Chiefs hosting the #4 ranked Lady Panthers. McIntosh defended their home pitch with a 4-2 victory to win the region championship.
"We're so excited," said McIntosh coach Casey Kreitner. "The girls worked so hard against a talented Starr's Mill team. I'm just so proud of their effort and the momentum that this is going to give us moving forward."
Game two saw the boys locked in an even closer battle as the #4 ranked Starr's Mill had to go all the way to a shootout to upset #1 ranked McIntosh after regulation and overtime could not determine a victor.
"We knew that the game was going to be very tight and closely contested, and we focused on staying disciplined and composed," said Starr's Mill coach Aaron Buck. "I think those two things, as well as the unity that the team has, made the difference."
In between games, several veterans and their service dogs were honored, and all night long the teams were raising money, with McIntosh and Starr's Mill raising a total of $3,500 for Tails of Hope.
Tails of Hope, a part of animal rescue group Coco's Cupboard, is a local non-profit that trains service dogs for disabled individuals, special needs children, wounded veterans, and first responders at no cost. For more information on how to get involved, go to cocoscupboardinc.org.