SPONSORED FEATURE
A simple invitation to join a coworker for a Pilates class not only relieved chronic pain and tightness in Brenda Marion's neck and upper back, but it also led to a new career.
Nine years ago, Brenda came home from work every day and iced her neck and shoulders. 
"As a dental hygienist, I was looking down all day and in the evenings I would just feel so uncomfortable," Brenda says. She saw a chiropractor regularly and did many other things to try to feel better.
A colleague had received physical therapy at ProHealth Physical Therapy and Pilates Studio in Peachtree City. The coworker's therapist suggested she maintain her progress by taking Pilates classes. Brenda agreed to go to that first class with her.
"She didn't want to come by herself," Brenda says. "This is how I started Pilates, and now look at me. It's my favorite thing!"
Brenda began coming to Pilates class two nights a week and then because she was feeling so much better, she added Saturdays too.
"Pilates was taking the stress out of my neck and shoulders and I just totally fell in love with it," Brenda says. 
Because she was moving in every direction, she felt taller, was more mobile, and had more confidence. She applied what she learned when she was on the job, and when she did start to feel pain again, she knew what to do to make it better. 
"The ergonomics of my work changed because I knew how to stack my shoulders over my ribs and hips."
Her coworker had a baby and stopped coming to class, but Brenda has not missed Pilates in nine years unless she was on vacation.
"I never stopped," she says. "This is the one thing I never miss!"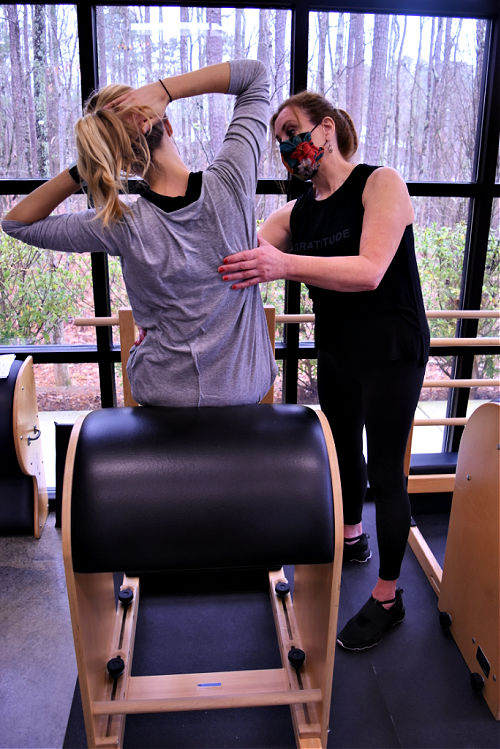 Brenda had been in other exercise programs over the years, aerobics, jazzercise, even kickboxing, and CrossFit. She found she was more motivated to come to Pilates than she had been to attend other kinds of classes.
"You don't dread it. I just love coming!"
In fact, she loves it so much, she decided to join the team of teachers who have all been trained by Karyn Staples, PT PhD, Owner of ProHealth Physical Therapy and Pilates Studio. Karyn has been teaching Polestar® Pilates Comprehensive program since 2012. Students come to Peachtree City from all over the country to study with Karyn. They fly here one weekend a month for training and continue studying at home weekly for a year to graduate from the program.
"I was so fortunate," Brenda says. "I would be crazy not to take advantage of this as much as I love Pilates, and I just have to drive across town."
"We're lucky to have Karyn. She's such a great resource. She's been doing it for so long now, it's just second nature."
Brenda completed her teacher program and certification last month. Retired after 30 years in dental hygiene, now she teaches Pilates half days, five days a week. She calls it her encore career.
"It's heaven. I get up. I come here. I do all this but then I still have a full life."
She teaches beginner and intermediate students in classes, in person and virtually, and teaches clients in private or duet sessions. She enjoys sharing the life-changing benefits of Pilates with others.
"You can see some real changes and you can see them fast."
"Everyone's tight across the front," Brenda says. "Just imagine the limited mobility you have when you slouch forward. The first goal is to open them back up."
When people continue with poor posture habits, the spine is affected, and often arthritis develops. Even breathing is affected, Brenda says, because they're not getting full lung capacity. 
Brenda loves to quote Joseph Pilates, founder of the exercise movement, who believed that poor posture and inefficient breathing are the roots of many health issues. 
"Joseph Pilates says, 'If your spine is inflexibly stiff at 30, you are old; if it is completely flexible at 60, you are young.'"
She has seen the truth in his theory, and the benefits Pilates has for people's mental health, which has taken a hit while we've all been cooped up in our homes during a pandemic. 
"One of my students said she didn't realize how down she was. She said she was just feeling old. But she started Pilates and we've been really working on her posture, and she feels so much better."
Brenda gets emotional talking about how noticeable this woman's improvement is.
"It's changed how she feels about herself."
Another student who experienced years of back pain has gained so much strength and flexibility, he's become more motivated about his overall health, adjusting his diet, and losing weight, too.
"It's amazing how much stronger he is and what he can do," she says.
Brenda is committed to her own Pilates regimen, scheduling her work around classes and duets with Karyn.
"I still come to Karyn's classes because I think that's a masterclass for me and my body. She's wonderful, and I feel like I'm such a better teacher because of her. I even video our classes a lot of times because it makes me see different ways I could do an exercise that I hadn't thought of yet. I learn a lot from it."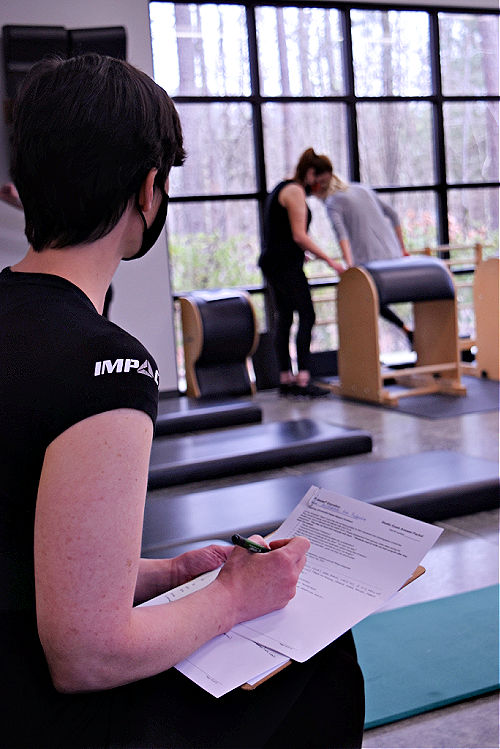 Karyn's expertise elevates the Pilates experience at ProHealth for everyone. Teachers can consult with her and other physical therapists on the team about what is safe for their clients. 
"I wouldn't have access to that if this was just a boutique studio."
Brenda's love of the Pilates method and her background as a health professional made her an ideal candidate for certification as an teacher, but anyone interested in movement and helping others move better should consider teaching Pilates.
"If you love being a part of people's wellness journey, then this is the career path for you," Karyn says.
The onsite portion of the program requires eight hours of classes on Saturday and Sunday for six weekends, a 10-hour online preparation course, and three to four hours of studying a week over the course of a year to prepare for a final practical exam.
For more information about the program, give Karyn a call at 770-487-1931. The next Polestar® certification series begins in September. If you're interested in Pilates classes, also call 770-487-1931 for information or to book a starter package. Classes are available in the studio and via zoom.
ProHealth Physical Therapy and Pilates Studio is located at 1777 Georgian Park in Peachtree City, Georgia.
About Pilates
The Pilates Method is not just exercise. It is a series of controlled movements designed to develop strength, increase flexibility, and lengthen muscles while achieving total body awareness. At ProHealth Physical Therapy and Pilates Studio, it is a customized workout, utilizing Pilates equipment and mat work, which provides you with the stretching and breathing benefits of yoga and the strengthening benefits of weight training.