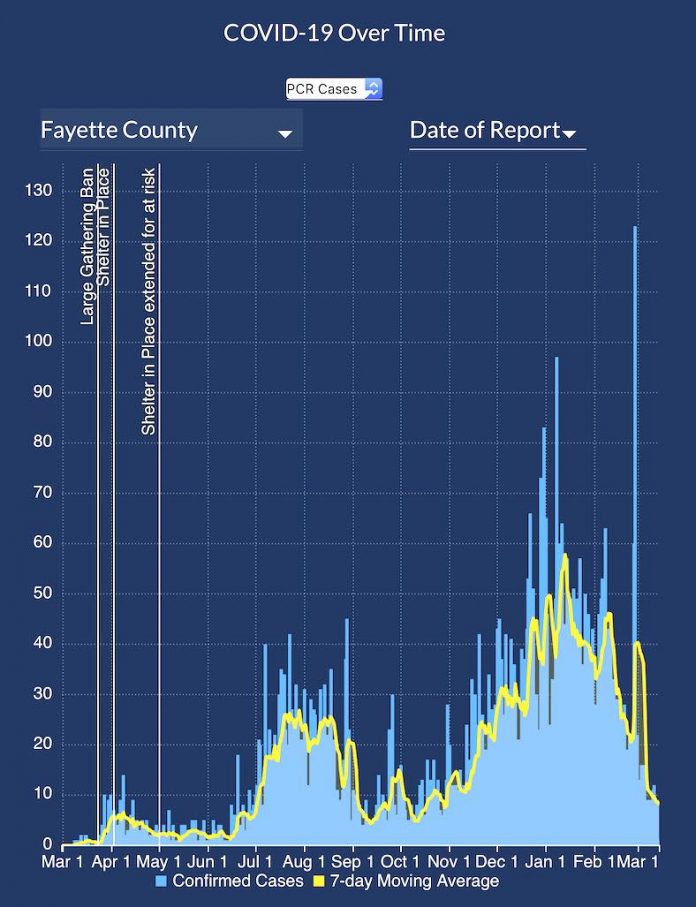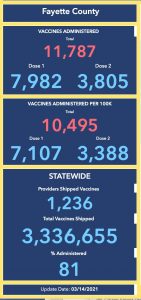 The closely watched pandemic indicator known as the 2-week positive test results hit 5.0% for Fayette County on March 7 and has not gone above that mark in the 7 days since, according to data from the Georgia Department of Public Health.
For March 14, the statistic — which indicates what percentage of people taking Covid-19 tests result in a confirmed infection — hit 4.4% Sunday, the lowest point since Oct. 30.
Meanwhile, new cases among Fayette residents have been in the single digits daily since March 6, except for March 10 (13 cases) and March 11 (11 cases).
The Sunday report added just 1 new case, bringing the Fayette total to 6,279. In addition, the 2-week new case number is at 135, a low not seen since Oct. 30, more than 4 months ago.
The death toll of Fayette residents is at 136, including the youngest victim of the pandemic: a 28-year-old African-American man with no other underlying medical condition, whose death was reported March 11.
The fatalities in March so far include 2 on March 4, 2 on March 5, 1 on March 6, 1 on March 10, and 1 on March 11. DPH considers as "probable" Covid-related fatalities another 15 local deaths over the course of the pandemic, which it carries in a separate category.
Also for the first time since October, statewide new case numbers dropped below 4 digits: 788 reported Sunday to bring the Georgia pandemic total to 835,484.
The graphs included with this story above and below show the "curve" of the Covid numbers has visibly declined from a January high in both the state and in Fayette County.
In addition, a third graph demonstrates dramatically how the Covid impact on hospitals across the state has fallen from nearly 34% of all hospitalized patients on Jan. 13 to under 10% on March 14, 2 months later. The number fell from 5,717 Covid patients 2 months ago to 1,392 on March 14, a decline of 4,325 infected patients.