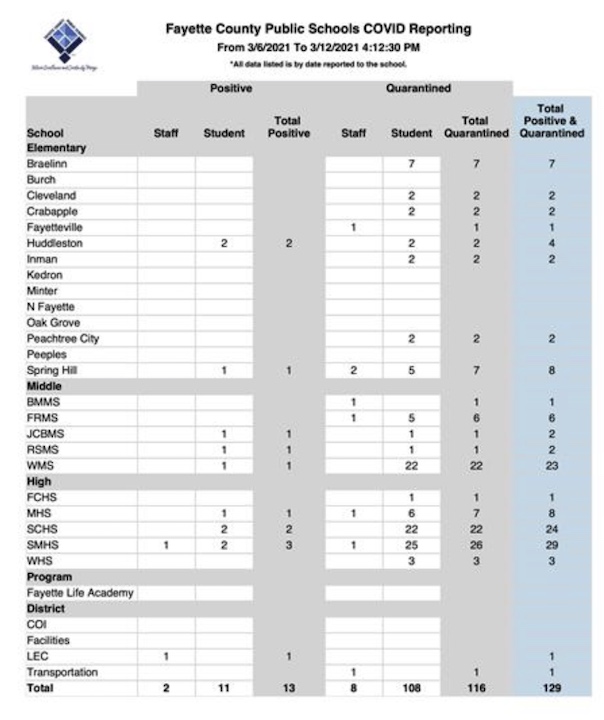 What a difference a month makes. For the week of March 6 through March 12, of Fayette County's 24 schools, 16 of them reported no new Covid-19 cases among both staff and students.
Of the 8 schools with new cases, 3 schools have 2 cases each, while 5 schools have only single cases. All but 1 case are students; Starr's Mill High School has one staff member with a new case.
Only 1 new case was reported last week to a district staff member.
The system had 11 students and 2 staffers with new cases for a total of 13 new cases.
Compare that to one month ago, Feb. 6 to Feb. 12. At that time, there were 19 new cases among staff members and 48 new cases among students, for a total of 67 new cases. The month brought a drop in new cases of 80%.
Quarantined persons saw a similar drop. For last week, the system had 129 students and staff members in quarantine for both positive test results and contact with an infected person.
One month ago, that quarantine number was 634, the difference representing a similar drop of nearly 80%.
Last week's report from the system showed only 2 elementary schools with new Covid cases: Huddleston with 2 students testing positive and Spring Hill with 1 new student case.
There was 1 new case each for 3 middle schools: J.C. Booth, Rising Starr and Whitewater.
Only 1 high school was clear last week: Fayette County High. Sandy Creek had 2 infected students, McIntosh had one student, and Starr's Mill reported 2 students and 1 staff member.
The Fayette County Board of Education last week heard plans for a cut-back in virtual learning numbers. All elementary schools are expected to go back to full in-person learning at brick-and-mortar schools.
Virtual classes for middle and high students are expected to be cut back significantly, with system-approved applications required to allow distance learning entry.