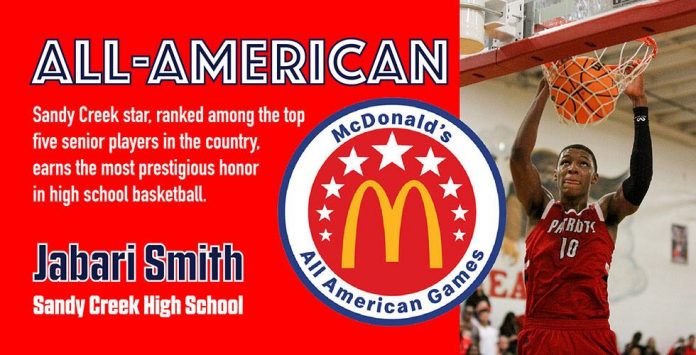 For Sandy Creek High's hoop star Jabari Smith, the accolades keep piling up with the announcement he is a McDonald's All-American, one of the most prestigious honors bestowed upon high school basketball players.
Standing 6'9" and 205 pounds, Smith towers over the competition as a well-rounded talent averaging 23.4 points, 9.9 rebounds, and 2.8 blocks per game. He now stands alongside basketball icons like Michael Jordan, Magic Johnson, and Lebron James as members of the McDonald's All-American lineage.
Smith is just the second player in county history to earn the honor, joining Fayette County High's Brianna Banks, who played in the girls game in 2011 before a collegiate career at UConn and Penn State.
Smith is one of the nation's top high school basketball players, ranked as the number 5 senior in the country by ESPN. He garnered interest from virtually every major program around the country before signing to play for Auburn University next season. Smith is the highest-rated recruit to ever sign with Auburn.
While the individual honors roll in, Smith and his Patriot team are focused on one singular goal: Winning the school's first basketball championship. They entered the state playoffs ranked as the top team in Class 3A, and they are set to play Cross Creek High for the title on Friday, March 12 in Macon.
Due to COVID-19, the annual McDonald's All-American game has been cancelled, but the honor will forever be linked to Smith's name.