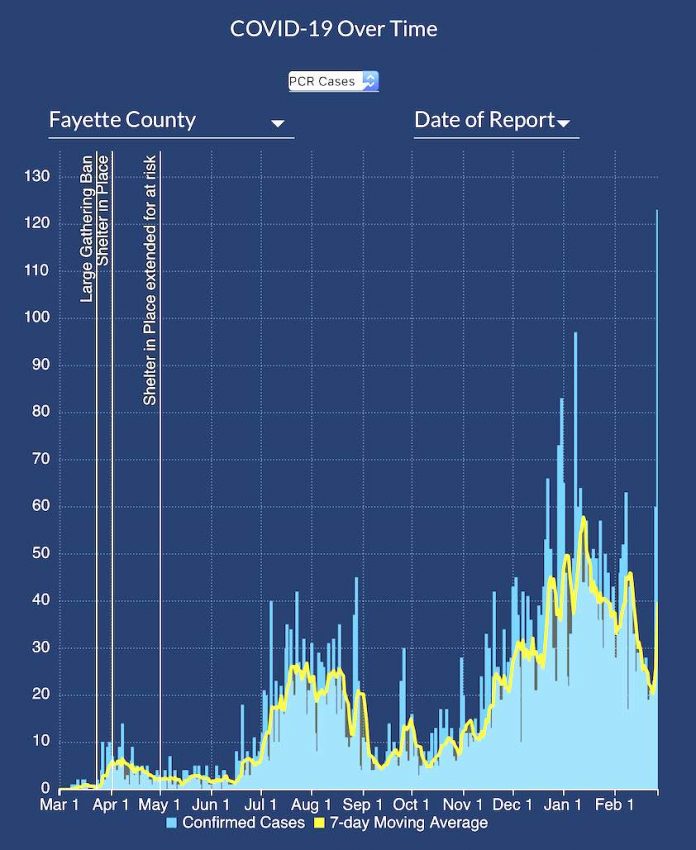 UPDATED FEB. 28 — There was no 'record' day: source says labs' data dump explains abnormally high numbers — 
The "record" high new case numbers Feb. 27 are due to a dump of backlogged but unreported cases from laboratories across the state, The Citizen has learned.
According to one report, the number of 123 Fayette County cases on Saturday contained 42 cases from 2020, 68 from January 2021, and only 13 new cases from February 2021. Yes, that "dump" of old cases adds up to 123, so the new record daily report requires an asterisk beside it to explain it. Only 8 of the "new" cases were even less than 2 weeks old, the source said.
The source said that this dump has been happening statewide on Friday and Saturday, so many counties may have experienced a sudden spike in 1-day case numbers. It should not be labeled as "false" reporting — the cases actually were confirmed — but the 1-day numbers were at the least artificially inflated and as such present misleading statistical information to the public.
========================
Previous uncorrected story — 
Fayette County notched a head-scratching spike in new Covid-19 cases Saturday — a record high of 123 cases reported in one day, the most in a single day since the pandemic began 12 months ago, according to data from the Georgia Department of Public Health.
In fact, new Fayette cases — which also broke through the 6,000 mark — represented nearly 5.7% of the entire state's Saturday total of 2,153 new cases.
Why? If anybody knows, they aren't talking. Fayette had been seeming to wind down the daily cases reported: mostly in the daily 20s and low 30s until Friday jumped to 62 and then Saturday followed with its record 123.
The 2-day total of 185 cases on Friday and Saturday was more than the previous 7 days combined. (See graph above for a visual representation.)
Previous high marks were 101 cases Jan. 8 and 83 on Dec. 31 during the peak pandemic load in late December and early January.
The new cases bring Fayette's pandemic total to 6,121, 457 of them in the past 2 weeks, DPH reported.
Meanwhile another Covid fatality was reported Friday, bringing the Fayette pandemic total to 129. In addition, DPH has a category of fatalities that were deemed to have died of other causes but that DPH believes were Covid "probables." That would add another 13 deaths to the local total, DPH data shows.
The state death toll broke the 15,000 mark Feb. 27, with an added 60 statewide fatalities bringing the pandemic total to 15,067, or a death rate of 1.84% of confirmed cases.
At the same time, vaccinations administered in Fayette total 8,457 as of Saturday and the state total is now over 2.4 million first and second shots.
"The Fayette County Health Department has been working with Fayette County Fire and Emergency Services and Fayetteville Fire Department to provide vaccines at 175 Johnson Ave. [in Fayetteville]," said Hayla Folden, media relations specialist for District 4, Georgia Department of Public Health, which is headquartered in LaGrange.
"They began holding Covid-19 vaccine clinics for individuals 65 and older on January 11, 2021. Weekly Covid-19 vaccine clinics have been held in this location during the month of February. Yesterday, February 24th, 910 people were vaccinated. This was a combination of first doses and second doses," Folden said.
"At public health vaccination sites people from any county can be vaccinated. We are not tracking where people are coming from to get vaccinated at each site, only the number of vaccines being no given at locations. I do not have a way of knowing if other enrolled providers in the county currently have vaccine. I can only speak for our location," Folden said.
"We will begin offering Covid-19 vaccine to more people March 8th as part of the Governor's recent expansion in vaccine. At this time, to book an appointment for this location you have to call District 4 Public Health's vaccine scheduling line — 762-888-8180. By March 8th, this location will be available for scheduling online through the statewide scheduling system found at this link: https://dph.georgia.gov/Covid-vaccine," Folden said.