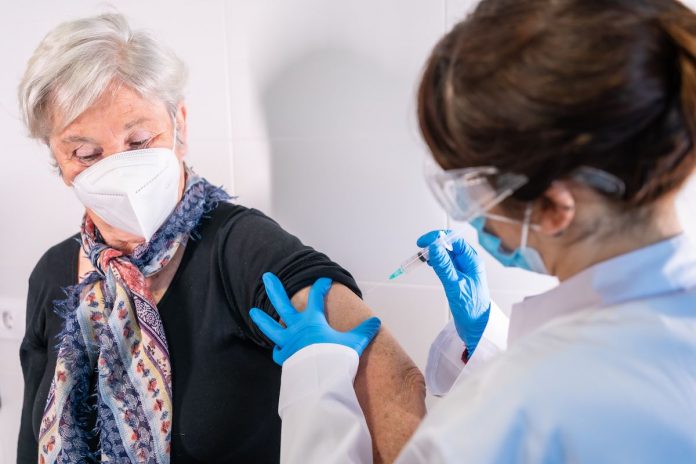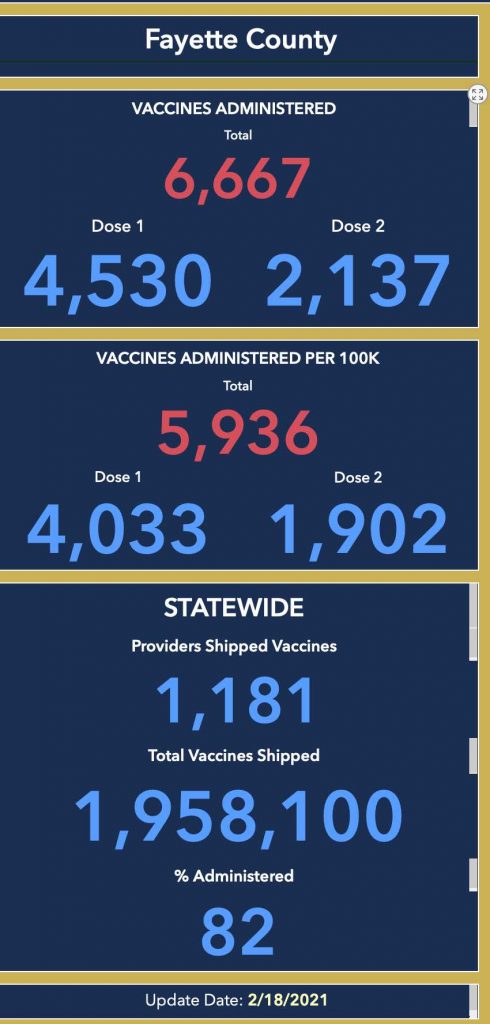 What a difference a day made. Covid-19 vaccinations went up in Fayette County in the Feb. 18 state report by 813 shots, after the first half of the month that averaged under 130 shots a day.
Vaccinations in Fayette went from 5,854 on Feb. 17 to 6,667 1 day later, according to the Georgia Department of Public Health.
Of that total, 4,530 received their first dose of vaccine, while 2,137 got their second and final dose, the state reported.
That comes as the state is ramping up mass vaccination sites due to open next week.
Governor Brian Kemp late yesterday announced the launch of four state-operated mass vaccination sites in Bibb, Dougherty, Fulton, and Habersham counties. With operations beginning on February 22, these sites are located near minority communities and will aim to administer 22,000 vaccines per week.
"These four sites are an important next step in our continued vaccination efforts to protect our most vulnerable and at-risk Georgians," said Gov. Kemp. "By strategically locating these sites near historically underserved communities, we will ensure more Georgians have access to the life-saving vaccine. These mass vaccination locations will be able to scale up quickly from the initial 22,000 doses per week capacity once the state is provided more supply from the federal government."
As of Thursday afternoon, Georgia has administered 1,606,000 vaccines, 82% of the total shipment. Georgia will begin receiving 198,000 first doses of the vaccine from the federal government next week, Kemp said. As the state's weekly allocation continues to expand, more state-operated sites are being planned.
To pre-register for appointments at the mass vaccination sites, visit myvaccinegeorgia.com.
To view vaccination locations, visit dph.georgia.gov/Covid-vaccine.
Additionally, DPH and the Georgia Department of Human services are joining efforts to ensure vulnerable seniors get access to the Covid-19 vaccine. DPH, DHS and local Area Agencies on Aging (AAAs) will be helping older adults to sign up for and coordinate transportation services to vaccination appointments across the state.
"This partnership is a great example of the way Georgia is answering the call to protect its residents from Covid-19 and get vulnerable populations vaccinated," Gov. Kemp said.
Georgia is currently in Phase 1A+ of its vaccination administration plan, which allows for people age 65 and older and their caregivers to be vaccinated. The 12 AAAs, which are part of the DHS Division of Aging Services network, will work with DPH's 18 public health districts to make contact with local seniors and plan vaccination events at senior centers and other safe community settings.
"Vaccination is so important for people aged 65 and older, but for those without a social support system to help them navigate a website, getting a vaccine can be extremely difficult," said Kathleen E. Toomey, M.D., M.P.H., commissioner of DPH. "This collaboration with DHS and AAAs demonstrates our collective ability to get the vaccine to the vulnerable individuals in Georgia who need it most."
This month, AAAs are beginning to reach out to seniors and their caregivers who are currently enrolled in services through Home and Community Based Service programs, which include services like home-delivered meals, personal care assistance and respite care, as well as those who have contacted the Aging & Disability Resource Connection (ADRC), which provides information on and referrals to local services and programs for older adults and people with disabilities.
AAA and senior center staff will assist seniors with the registration process to sign up for local vaccination events and follow-up appointments for second dose vaccinations.
Vaccination events require pre-registration. There is no availability for walk-ins. AAAs will also assist with coordinating transportation for home-bound seniors needing assistance to and from their vaccination appointments.
"The Covid-19 virus has affected older adults so significantly that many seniors have had to cut themselves off from their families and communities to stay safe," DHS Commissioner Robyn A. Crittenden said. "This partnership with DPH to help in the vaccination process is so important so we can keep our seniors safe and reconnect them with more in-person services and activities."
To contact your local AAA, visit aging.georgia.gov. For other resources for older adults, please contact the ADRC at https://www.georgiaadrc.com/findservices.
Meanwhile, Covid numbers continue to fall in Fayette and across the state (see charts below). Fayette recorded 17 new cases Thursday to bring the county total to 5,767.
One new fatality also was reported: a 90-year-old white man with no underlying medical condition. That death toll for Fayette is now 119. (The list of Fayette fatalities is here.) The state is reporting that an additional 13 people are considered as "probable" Covid victims.
Fayette's 2-week number of new cases fell below 500 — 480 — which give the county a 2-week positive test rate of 9.9%, still higher than the state 2-week rate of 9.5%, and higher than neighboring Coweta County's rate of 9.5%.
State numbers are 2,238 new cases and a total of 798,785; 104 new fatalities (1.8% death rate) with a death toll statewide of 14,358; 293 new hospitalizations and 31 ICU admissions.
The first chart below shows in the yellow line the 7-day moving average of new cases reported in Fayette County. The second graph from DPH data shows the number of people being treated for Covid-19 and occupying hospital beds across Georgia. That number has fallen more than half from above 5,700 in early January to below 2,600 in mid-February. And the third graph shows the progression of use of ICU beds and the current availability.