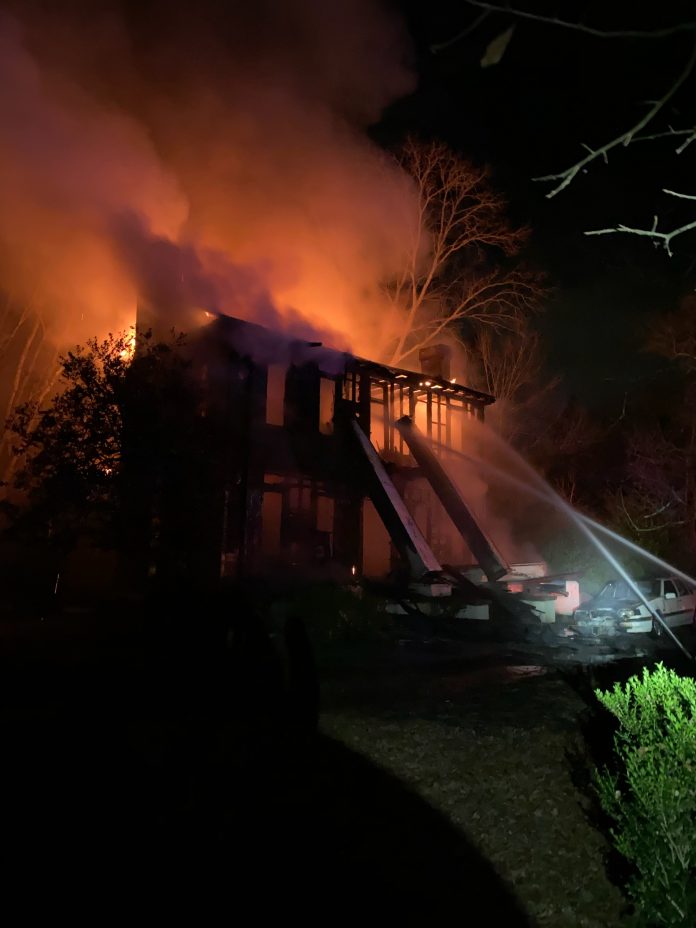 One of Fayette County's dwindling number of 19th century homes was gutted by fire Monday evening.
No one was injured in the blaze that closed down Ga. Highway 92 South for "an extended period of time," said Captain Mike Singleton, EMA Director for Fayette County.
"At approximately 6:20 p.m. [Jan. 4], Fayette County Fire/EMS units were dispatched to 1972 S. Hwy 92 on a residential building fire. The fire was well involved when the first engine arrived on-scene with a collapse also occurring at that time," Singleton said.
"The home was occupied at the time of the fire and all occupants exited without injury. There is significant damage to the structure. Units from Stations 7, 6, 5, 10, 4 and 11 were on-scene fighting the blaze. Highway 92 in the area of Hampton Road was closed for an extended period of time," Singleton said.
Local resident Samuel Patton arrived on the scene during the fire and took most of the photos accompanying this story.
"It's so heartbreaking to see history go up in smoke like this. I read how during the Civil War, Dr. Woolsey took care of wounded Confederates after they retreated across the Flint River after the battle of Jonesboro. With all those tall old trees around it, it's easy to imagine wounded soldiers laying against them. Most of history like this is, as the book says, Gone With the Wind, unfortunately," Patton said in an email.
Woolsey is an incorporated town just south of Fayetteville on Hwy. 92. The town's website says this: "Originally occupied by the Creek Indians, the first white settlers moved in around 1880. It was a prosperous town that included a school, post office, churches, plantations, farms, and market vendors. It was established near the historic communities of Rest and Inman. Woolsey is named after a prominent doctor who served in the Confederacy before being injured."
"In 1875, I. G. Woolsey, a doctor, minister, and former Civil War surgeon, bought the land. By an act of the Georgia State Legislature, Woolsey became a town on December 16, 1893, but until Dr. Woolsey made application for a post office in the 1880s, the town of fifty-five residents was affectionately called Woolseyville," according to the website's history of Woolsey.
The 3,339 square-foot home was valued on Zillow for more than a half-million dollars.