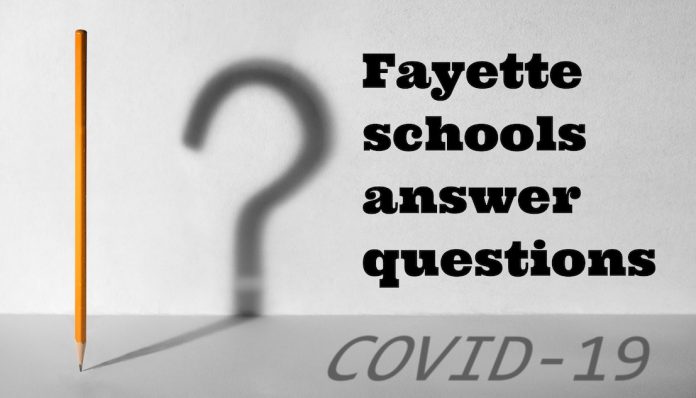 With more than 14,000 students attending in-school classes and 3,000 staff on duty, Fayette County Public Schools gets more questions about Covid-19 than just about anyone. In response, the school system published the answers to some of the most commonly asked questions.
When someone is identified as a close contact, one question that gets asked a lot is "Should I get tested?"
"Not everyone needs to be tested," said school system spokesperson Melinda Berry-Dreisbach. "Covid-19 testing guidelines posted on the Georgia Department of Public Health's website says to get tested if Covid-19 symptoms develop, or on day 10 of quarantine for those who remain asymptomatic. Getting tested before day 10 could result in a false negative."
It is important that people remain in quarantine for the full 14 days even if they test negative at some point during the quarantine period. A negative test does not shorten quarantine, but helps determine who else may have been exposed to the virus, Berry-Dreisbach continued.
Testing asymptomatic people during their quarantine period helps identify those who are infected with the virus, their need to be in isolation and the need to notify and quarantine their close contacts, she said.
Berry-Dreisbach said another popular question is "Should I quarantine because I have been in contact with someone who is a close contact?"
"Only people who have been in close contact with someone who has Covid-19 needs to be quarantined, according to the Centers for Disease Control (CDC). Just because someone has been placed in quarantine does not mean that they are positive for Covid-19," Berry-Dreisbach said.
Everyone should monitor their health daily for Covid-19 symptoms, and stay home if not feeling well, she added.
Berry-Dreisbach said Fayette County Public Schools appreciates all the safety measures that parents, students and staff are taking to keep COVID-19 from spreading in schools; especially, immediately reporting positive test results. This allows for quick contact tracing to identify close contacts who need to quarantine.
In conjunction with wearing face coverings, frequent hand washing/sanitizing, and distancing as much as possible, positive COVID-19 case counts in schools remain low from week to week, she said.