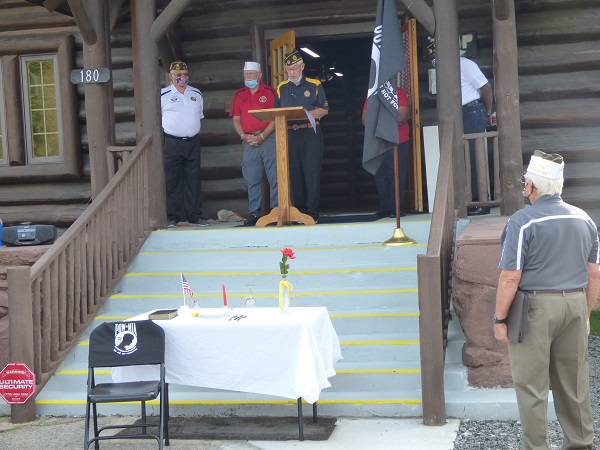 "Never Forget." Those words, that slogan, were emphatic as they were spoken by those in attendance Sept. 18 at the American Legion Post 105 Log Cabin in Fayetteville for POW/MIA Recognition Day.
The solemn ceremony was attended by members of local vets and veterans' groups from around Fayette County to help ensure that prisoners of war and those missing in action are not only recognized and remembered, but that the need to have them returned to their nation not be forgotten.
The brief ceremony was held outside the log cabin. At the bottom of the stairs was a table set, as if for a meal, and a solitary chair.
As is customary at the yearly remembrance, the Missing Man Table, also known as the Fallen Comrade Table, was in place during the ceremony.
For those unaware of its significance, the empty table might bear little notice. But for those who understand, that table and its contents and the chair beside it means everything.
The small table is round to show everlasting concern for America's missing men.
The tablecloth is white, symbolizing the purity of the motive when answering the call to duty.
The single red rose in a vase is a reminder of the life of each one missing, and their loved ones and friends who keep the faith, awaiting answers.
The vase tied with a red ribbon is a symbol of the continued determination to account for those missing.
The slice of lemon on the bread plate is a reminder of the bitter fate of those captured and missing in foreign lands.
A pinch of salt symbolizes the tears endured by those missing and their families who seek answers.
The Bible represents the strength gained through faith to sustain those lost from this country, founded as one nation under God.
The glass is inverted to symbolize their inability to share a daily toast.
The chair is empty; they are missing.
At the conclusion of the ceremony, the words of Pres. John Kennedy were noted – "A nation reveals itself not only by the men it produces, but also by the men it honors, the men it remembers."
The only thing left to say is that the whereabouts of those still unaccounted for deserve to be known. They displayed the love for their country by serving, and they deserve to have their nation display a similar love for them.