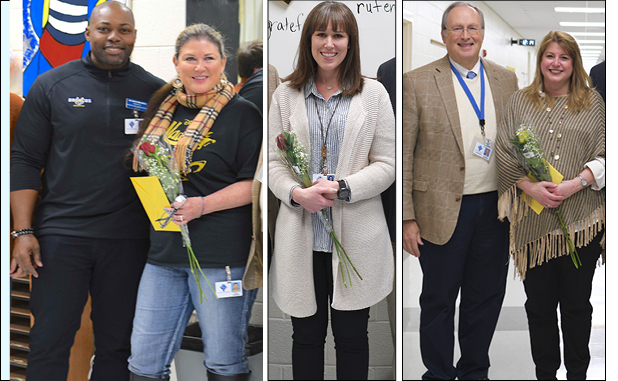 This is the moment Fayette County educators have been waiting for — after many intense hours of reading and scoring 25 applications of Fayette County's top teachers, the judges have named three teachers the 2020 Teacher of the Year finalists.
The finalists for the 2020 Teacher of the Year honor are Jennifer D'Amato, Fayette County High School; Christina Rufenacht, Flat Rock Middle School; and Laurie Gividen-Kufchak, Bennett's Mill Middle School.
As a 13-year educator, Jennifer D'Amato, a math teacher at Fayette County High School, is dedicated to student success and works diligently to create meaningful relationships with not only her students, but their families.
After graduating from the Georgia Institute of Technology, D'Amato spent the first 10 years of her professional career in manufacturing and sales.
Her prior career experiences have made their way into her classroom as she often ties in business and scientific applications into her lessons. "As we explore the concepts of functions in mathematics, we compare them to factories. In a recent discussion with remedial ninth grade students, we used this scenario to discuss how the inputs, or materials, are transformed within a factory to create a new output that is sold to customers."
D'Amato continues to find new ways to reach her students and support her school. "I am a lifelong learner who strives to create a nurturing, supportive, and challenging environment for my students."
For D'Amato, teaching goes beyond the mathematical numbers, figures, and equations – it is about creating an environment where students can succeed. "We must acknowledge that it truly does take a village to educate a child, and the student, the teacher, the parent, and school system must take equal and active roles. If even one piece of this puzzle is missing, the system cannot function properly as America's children are the future of our country," she says.
While most people might back down from a challenge, Christina Rufenacht, an English to Speakers of Other Languages (ESOL) teacher at Flat Rock Middle School, uses it to invigorate her.
At 10 years old Rufenacht knew she wanted to be a teacher, but quickly understood that learning doesn't belong only within the walls of a classroom. "I realized the only way to teach is to study my students, build relationships with them, and not limit their learning to the walls of the school," she says.
As an ESOL teacher, she is often faced with non-English speaking parents, but this does not hold her back from creating meaningful parent engagement. Rufenacht uses a multilingual texting tool that allows her to communicate with parents in their native language and sends out positive messages to them on a weekly basis, which has been a major success for the Flat Rock school community. "Embracing this diversity and gaining unique families as partners enriches the culture of our school."
Rufenchact has also had the pleasure of witnessing children walk into her classroom fresh from a refugee camp, and watch as those same students earn their high school diplomas.
"I show up for these children every day because without literacy in the language of the land where they reside, they have no voice. Through teaching, accommodating, building a relationship, and framing their voice, I have the opportunity to create literate world-changers," Rufenchact says.
With 12 years in education, Rufenchact believes it is crucial to stop viewing the challenges children bring into the classroom as hindrances, but rather as vital teachable moments. "Behind every behavior is a need, and as a teacher I am privileged to be able to meet some of those needs. We are all responsible for our society's children, and public education is our collective responsibility."
Bennett's Mill Middle School's drama teacher Laurie Givden-Kufchak loves the ability to foster and embrace her student's unique abilities.
With a passion for the performing arts, Kufchak recently finished the middle school's production of Disney's Aladdin Jr. Instead of leading the students, she allowed the students to lead themselves. "Having students to produce the work allowed them to find their own individual voices based upon their own experiences."
She understands that she cannot control what happens outside of the classroom door, but while students are in her class it is important that they feel they belong. "At the middle school level, many students lack the sense of belonging and acceptance, but in my drama class they are able to find their confidence without the negative judgement."
Some would think that as a drama teacher Kufchak is teaching her students to be someone else, but she has tried to teach them that it's not so much about learning how to act like someone else – but to know who they are personally, so they are free and brave to try their hand at being someone else.
After 25 years in education, Laurie Givden-Kufchak is still able to get up every day and do what she loves, "Inspiring a student, fostering curiosity, and helping to build confidence in their abilities is helpful for providing that "hook" that keeps a child coming back for more knowledge."
Each finalist will be observed in their classrooms and interviewed by the judging panel, which consist of two retired educators and last year's county winner, Michael Wamsley of Robert J. Burch Elementary. The teacher with the highest combined judges' score will be named the 2020 Fayette County Teacher of the Year.
The winner will be announced at the annual celebration on April 16 at New Hope Baptist Church, South Campus, starting at 6 p.m. This event is free and open to the public.