Is it déjà vu, false memory, coincidence, or dream? That is the question at the heart of Colleen Oakley's third novel, You Were There Too (Berkley Trade Paperback; January 7, 2020). Oakley will launch her latest work in the Atlanta area with appearances at Maune Gallery, FoxTale Book Shoppe, Margaret Mitchell House, as well as a visit to Peachtree City Library on Tuesday, January 7, at 11 a.m.
Due to the expected high attendance, the event will be held next door to the Library in Council Chambers at City Hall.
You Were There Too is the story of artist Mia Graydon and her surgeon husband, Harrison, who recently moved from Philadelphia to the small, quaint town of Hope Springs, Pennsylvania. Children were part of the plan for the relocated couple until Mia suffers a third, devastating miscarriage. Then Mia meets the man of her dreams – literally.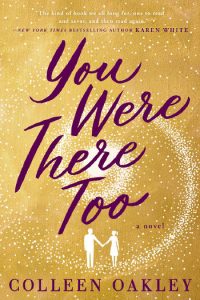 Already drawing comparisons to The Light We Lost by Jill Santopolo and the work of JoJo Moyes, You Were There Too is a portrait of a marriage: an entity made up of two individuals who evolve both together and individually and must choose each other again and again, despite all obstacles. It is a love story about marriage – once the bright and shiny has worn off, and the real work of "forever" begins.
"Oakley (Close Enough to Touch) blends an old-fashioned love story with a fresh psychic mystery for a satisfying look at commitment, forgiveness, and fate in this can't-put-it-down story of a young couple whose dreams and regrets challenge their marriage and plans for a family." – Publishers Weekly (starred review).
Colleen Oakley is the author of two previous novels, Close Enough to Touch and Before I Go, which were named best books by People, Us Weekly, Library Journal and Real Simple, and both were long-listed for the Pat Conroy Southern Book Prize. Oakley is also the former senior editor of Marie Claire and editor in chief of Women's Health & Fitness. Her articles, essays and interviews have been featured in the New York Times, Ladies' Home Journal, Marie Claire, Women's Health, Redbook, Parade and Martha Stewart Weddings.
Oakley gets her novel ideas from the research she does for articles, and You Were There Too is no different. While researching an article about sleep for WebMD magazine one day, she came across a fascinating study on dreams. This study concluded there was enough anecdotal evidence to state that dream telepathy— two people sharing the same dream on the same night— was a real phenomenon, though experts are unsure how or why it's possible. Attendees to the Peachtree City event can look forward to Oakley sharing intriguing facts that are the nuts-and-bolts of her novels, wowing readers with fun, interesting information about the world around them. Online RSVP is requested for the book launch in Peachtree City at https://peachtreecitylibrary.eventbrite.com