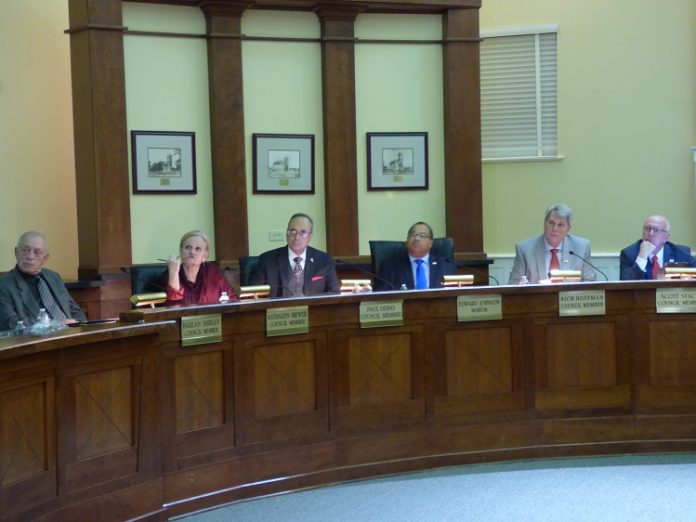 A proposal to downsize property along Ga. Highway 54 at Lafayette Avenue, currently zoned for a 125-unit senior development, to a 63-unit age-restricted cottage development was tabled until January at the Dec. 5 meeting of the Fayetteville City Council.
The move to table the request was designed to give council members time to visit similar cottage-style developments by OneStreet Residential, the developer of the age-restricted HearthSide Club Lafayette apartments, situated immediately to the east of the 8.13-acre property bordering Lafayette Avenue/Campaign Trail.
City planning staff at the outset noted that the property was previously zoned in 2014 for a 30-unit memory care building, a 60-unit assisted living building and 24 single-family independent living homes, totaling 114 units in all.
OneStreet said the intent was to modify the current development agreement to provide a less intense, active adult (55 years and up) community. The current development plan carries a density of 14 units per acre, while the detached and semi-detached cottage proposal carries a density of 7.75 units per acre.
Featuring 1- and 2-story designs, 48 cottages would include attached garages, with the remainder offering driveway or surface parking.  The exterior grounds would include walking trails, resident gardens, pet areas and grilling stations, OneStreet said.
Representing the developer, attorney Kathy Zigert also noted that the proposal is already in-line with the current zoning, and that OneStreet would move forward with the currently-approved project if the new proposal, which includes a 54 percent decrease in density, is not approved.
Zigert continued, saying the plan eliminates surface parking, reduces height and provides a walkable development with a home environment. She said the cottages would range from 1,190-2,650 sq. ft. and would range in price from $1,900-2,650 per month.
It was noted that the adjacent Meridian at Lafayette Apartments, located across Lafayette Avenue/Campaign Trail from the site, come with a price of $1,695 for a 2-bedroom apartment totaling 1,201 sq. ft., while a 3-bedroom totaling 1,369 sq. ft. comes with a rental price of $1,850.
"There are older people working longer and want a different type of product," said Zigert.
Councilman Rich Hoffman, in responding to Zigert's statement that OneStreet would move ahead with the previously-approved development if the new proposal was not approved, said her comment sounded like a threat.
Councilwoman Kathaleen Brewer followed, saying she though the rents would be too high.
OneStreet Development Director Deke Rochester entered the conversation, saying there are many people today aged 55 and older who do not want the independent living arrangement that is part of the project currently approved.
"The market is changing," Rochester said, noting that, as currently zoned, few people from an independent living, assisted living and memory care development would be coming to the nearby downtown area.
Mayor Ed Johnson responded, saying he wanted to see OneStreet's market study.
"I'm not sure this product is needed in Fayetteville at the present time," Johnson said.
Brewer followed, saying she did not think the proposed development should be age-restricted. Rochester responded, noting that the proposal would allow up to 20 percent of units that would not have to be age-restricted.
Architect Bill Foley spoke during public comments, saying, "Projects like this are going on in other metro Atlanta areas and with much higher rents. The new model is detached cottages. This would be a first for Fayetteville."
Hoffman responded, saying he did not believe the adjacent HearthSide Club at Lafayette, also a OneStreet development, "looks that great," and adding that he would like to see other OneStreet cottage developments.
City Manager Ray Gibson added that he would like to see the company's marketing study.
OneStreet Partner Brandon Barr then spoke, apparently referencing Hoffman's earlier comment that constructing the currently-approved project, if the new proposal were denied, sounded like a threat.
"This is our business. We decided to do one thing, and we do it well," Barr said. "Assisted living won't be walkable and there will be no discretionary cash coming back into the community. We can do (independent/assisted living/memory care) but I don't think that's what you will want."
Hoffman responded, recommending that the item be tabled, saying he could not make an informed decision at this time.
The agenda item was subsequently tabled, giving council members time to visit similar OneStreet developments prior to the item's return at the Jan. 16 council meeting.