SPONSORED FEATURE
You may receive many gifts this holiday season, but too often the intangible gifts that mean the most — being acknowledged, appreciated, respected and loved — go unsung. These values are lived out every day at Clothes Less Traveled (CLT) where staff and volunteers work as a team to emulate authentic Christian values, including maintaining a positive attitude and treating everyone with appreciation and respect.
"We are grateful for you, our donors, who help make CLT a shopping destination through your generous donations of new or gently worn clothing, antiques, household items, furniture, toys, gifts, and much more," Fran Shockley, executive director, says. "Our staff appreciates the giving spirit our donors bring to CLT."
Dock Manager Dirk Harker, who often picks up furniture donations in the community, recently found an envelope containing a large sum of money in a furniture donation. Quickly, Dirk tracked down the furniture donor and was able to return the envelope of money. This expression of honesty and integrity exemplifies our dedication to being truly 'neighborly' in our community.
"We are grateful for you, our volunteers, who can serve anywhere, but choose to serve at CLT," Fran says. "Your bright outlook, dedication to great customer service, and concern for our mission reflect our values. When we recently updated and rearranged much of the store, it was the teamwork of staff and volunteers that made the change happen in less than 48 hours! If you have not seen the new face of CLT, be sure to check it out!"
Local groups, such as the lacrosse teams at Whitewater High School, and individuals helped make the changeover possible.
"We are grateful for you, our shoppers, who can choose anywhere to shop, and yet choose to make a difference by shopping at Clothes Less Traveled."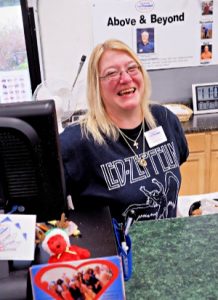 Shopping at CLT is always an adventure where you can discover quality holiday gifts of fashion, fine jewelry, books, décor and so much more at incredibly low prices. You may be surprised to find your gift list complete with Jimmy Choo high heels in their original box, Michael Kors watches, a gently used Coach purse perfect for any outfit, and brand-new Calvin Klein menswear. You come to get great bargains, but you also come because you are committed to making our community a better place.
"We are grateful for you, our staff, who authentically model our values day in and day out," Fran says.
To show this gratitude, CLT decided gave each staff member the opportunity to choose which organizations received 2019 fall grant funding. They expressed their personal values and passions by deciding on a grant donation to a cause close to their hearts.
Stop by the store this holiday season and let Clothes Less Traveled express their gratitude to you!
Volunteer Spotlight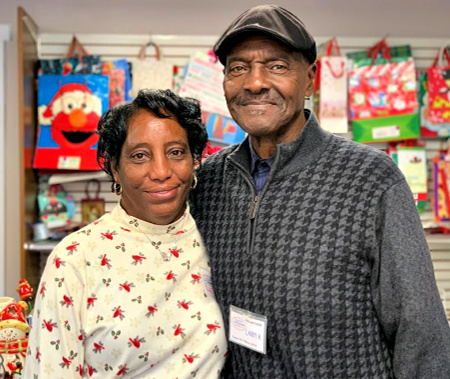 After Betty Barner lost her mother, she felt disconnected, as if the house was closing in on her. She and her husband, Larry, decided they needed to find a place to volunteer and reconnect with people. They found the perfect fit at Clothes Less Traveled.
"It was the atmosphere," recalls Betty. "Everyone was friendly, concerned and loving toward us."
Larry began volunteering as a greeter, sharing a warm smile and cheer with those who entered the store. He now works in the electronic section. Betty organizes and displays featured items, including the vintage dishes spotlighted in the Treasure Tunnel.
Their smiles tell it all – they love volunteering at CLT!
How You Can Help
This holiday season, we at Clothes Less Traveled are grateful for our shoppers, donors, volunteers and staff. Funds generated at our store last year made it possible for us to distribute grants to 46 worthy nonprofit organizations! You helped feed the hungry, support veterans, seniors, and children in foster care. Your support impacted cancer treatment and recovery programs, animal rescue and adoption programs, college scholarships and much more. We look forward to teaming up with you again in 2020. Together we are changing our world!
More Clothes Less Traveled Heroes