SPONSORED FEATURE
One of the ways the Fayette County Board of REALTORS® has been celebrating their 50th anniversary is to do what they've done for years — give back to the community. On a recent Tuesday morning, 14 local REALTORS® were on hand for a load-out at Midwest Food Bank in Peachtree City.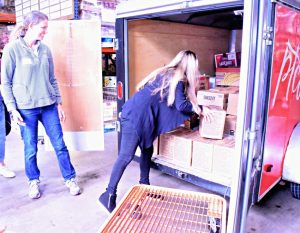 Load-outs happen twice a day, eight days a month, at Midwest Food Bank, where other food pantries from all over the southeast come to receive literally tons of food. Dozens of volunteers transfer dry goods and staples into trailers, trucks, vans, and sedans as they drive through the warehouse in Peachtree City.
Another full crew of real estate agents came later that day for the evening load-out. Many of the Fayette County Board of REALTORS® volunteers had been there before, but some heard for the first time how the mission of Midwest Food Bank is to bridge the gap between poverty and prosperity. They heard Will Garner, executive director of Midwest Food Bank, talk about how so many lives are touched by every organization that drives through the warehouse.
By the end of the day, more than two dozen REALTORS® had contributed more than 50 hours of service to local and regional nonprofits served by Midwest Food Bank.
It was a good day's work, which is nothing unusual for the Fayette's dedicated REALTORS®. This year, though, as part of the 50th anniversary celebration, they've logged hundreds of extra hours to support organizations that could benefit from hundreds of extra hands.
In April, for instance, REALTORS® helped out at Fayette Special Olympics, assisting with shot-put, long jump, and 50-meter races. In May, REALTORS® imitated Elvis, Whitney, and other favorite stars and demonstrated many more special skills at a fundraising talent show. The event generated more than $21,000 for charitable organizations around the county.
In June, volunteers picked up their paint brushes to help update the first home built in Fayette by Square Foot Ministries 15 years ago. Before the day was over, REALTORS® had taped, caulked, trimmed, and painted the interior walls and ceilings as well as the exterior of the home.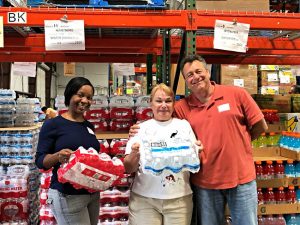 Members of FCBOR also donated food to Fayette Samaritans and diapers to Midwest Food Bank earlier this year, as well as food for the animal shelter and school supplies to teachers.
This month, the Board of REALTORS® hosts the 25th annual Noel November, their annual holiday extravaganza. The event has raised hundreds of thousands of dollars for local charitable organizations in the past quarter-century. In December, REALTORS® will be donating stuffed animals to first responders throughout the county to help comfort traumatized children.
These efforts are a great way to give back to the community that has supported thousands of REALTORS® over the last half-century, according to Mary Watts, chairperson of the Board of REALTORS® 50th Anniversary Committee. The projects are also a great way for agents to become even more knowledgable about local nonprofit organizations.
"There are so many fantastic charities out there that help our community," Mary says. "This gives us first-hand knowledge that is great to share with new residents."
And even though the Board has a 50-year history of supporting Fayette County, many REALTORS® have learned much more about the community and local nonprofits through the extra efforts they've made to contribute to charitable causes this year.
"Who knows, maybe they'll be back at Midwest Food Bank next month, or two months from now because they've heard the story and they understand."
"Some people think Fayette's very wealthy and we don't need help, but people lose their jobs, have illnesses, or other things that change their lives," Mary notes. "When our clients tell us about a family or friend who needs something, we are able to point them in the right direction to possibly get help."
Educating newcomers about wonderful ways to plug into the community is good for everybody.
"That's all you can hope for," Mary says.
"We care about our community, those we've sold homes to and anybody involved with them that may need help," Mary says.
ABOUT THE FAYETTE COUNTY BOARD OF REALTORS
The Fayette County Board of REALTORS® (FCBR) is proud to celebrate 50 years serving the local community. The organization was founded in 1969 by nine charter member brokers, all legends in local real estate history: Peggy Seay, Ed Mckown, Miriam Fulton, Reba Thompson, Buddy Trammell, Huie Bray, Cliff Bullard, Roland Brown, and Irene Mitchell. The FCBR is under the umbrella of the National Association of REALTORS® (NAR), founded in 1908, and the Georgia Association of REALTORS® (GAR), founded in 1921.
The Fayette County Board of REALTORS® serves more than 1,000 members and affiliates that serve the municipalities of Fayetteville, Peachtree City, Brooks, Tyrone, and Woolsey in the real estate industry. The FCBR team is experienced, motivated, and ready to connect you with the services and tools to enhance your business or homeownership needs.