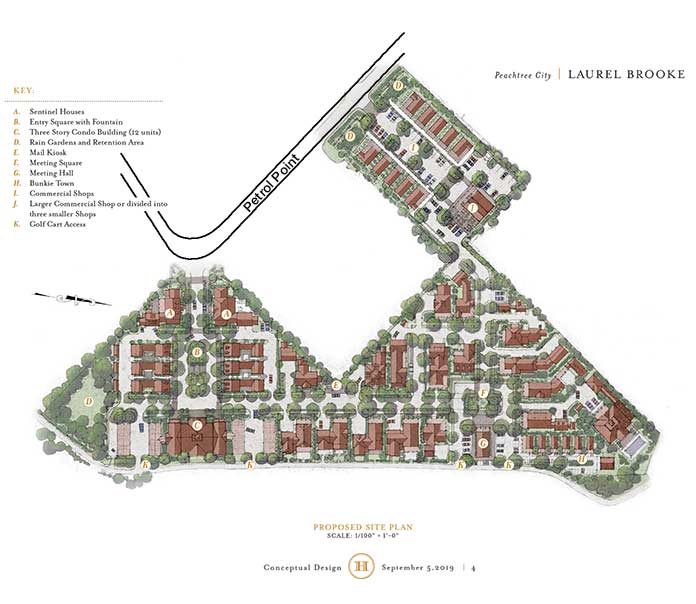 A workshop item at the Sept. 9 meeting of the Peachtree City Planning Commission provided the initial look at the Laurel Brooke mixed-use proposal along Petrol Point off Ga. Highway 54 East.
Workshop items are those the precede formal presentations.
Doug Feller, of Feller Holdings, made the informal presentation. He said his company is considering a rezoning request for two parcels totaling nine acres along Petrol Point and with its intersection with Tivoli Gardens Road.
A short distance from Hwy. 54 East, Feller said the two parcels are undeveloped, with a steep grade on a portion of the property.
"We're looking at the best use for the land," Feller said.
Explaining the approach, he said conceptual plans along Petrol Point nearest to Hwy. 54 East call for approximately 10 2-story commercial buildings at 1,400 sq. ft., a 5,000 sq. ft. building that would house the company's corporate office on the second floor and rain gardens and retention areas.
The bulk of the property would include a variety of residential offerings and would feature the look of the North Cove subdivision, Feller said, and would include two sentinel homes at the entrance at Petrol Point and Tivoli Gardens Road.
Continuing into the property, and along the entry square and fountain, would be six detached townhomes and a 12-unit, fee simple condominium building. Rental of condos would be prohibited.
The remainder of the property would include 19 single-family homes, six bed and breakfast/guest houses and a meeting hall.
"We're going to spend a fortune on landscaping and brick sidewalks and pavers," Feller added.
Feller said the entire development would be included in an HOA.
Expected to return to the commission in the fall for a formal presentation, Feller said the request is expected to include zoning that would accommodate varied housing types.
Commissioner Paul Gresham during the brief discussion noted that the expected density could prove to be a challenge.
Additionally, the city currently has a moratorium on multi-family housing which would come into play with the condo portion of the proposal.