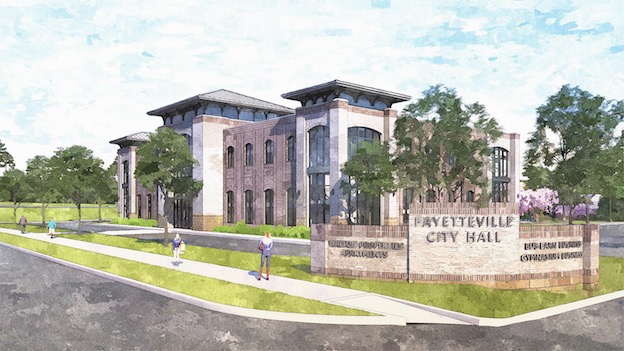 The Fayetteville City Council on Sept. 19 will consider a resolution from the city's Public Facilities Authority (PFA) for a supplemental bond for financing of the new City Hall and City Center Park projects.
The resolution will provide for the issuance of a maximum aggregate principal amount of $25 million for the new municipal complex and park projects.
An intergovernmental agreement (IGA) between the city and the authority in July allowed the PFA to establish maximum financing parameters to facilitate the authority's process of issuing bonds for the new City Hall on Stonewall Avenue and the multiple acres of park space to the south of the municipal complex.
Renderings for the new City Hall and City Center Park projects were revealed in August.
Though detailed plans for the building will not be available for a few weeks, the rendering provided by the city shows a 34,000 sq. ft., 2-story building of brick and other materials, with tower-like structures and large windows on the east and west sides and in the center.
The City Center Park will come with a wealth of features designed to attract large numbers to the area and, when complete, will be the largest outdoor meeting space in the downtown area.
A sampling of the park features includes numerous walkways and pedestrian pathways, a splash pad and playground, restrooms and changing rooms, a water feature, a grass mall with a performance area, a pond and dog park, interconnected streets and a wealth of trees, shrubs and flowers.
Retained in the process are the old Fayette County gym and the school system's bus barn. Both will be redesigned and portions of both will be leased to as yet unnamed tenants.
The projects are expected to come with a $23 million price tag, of which $19 million will cover construction costs. The projects include a $1 million contingency. The projects will be financed through the city's Public Facilities Authority.
Both projects are anticipated to be completed in late 2020.