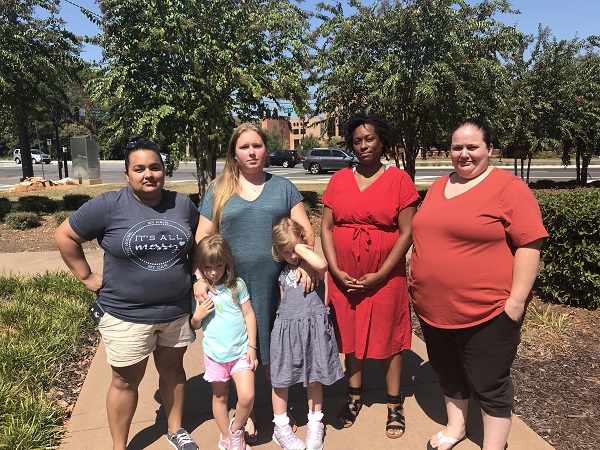 Several parents met across from Piedmont Fayette Hospital on Sept. 18 to discuss their concerns about the news that Children's Healthcare of Atlanta will soon stop offering audiology and outpatient rehabilitation services in Fayette County. Pictured, from left are, Vanessa Corrilo, Abigail Beach, Cierra Beach, Addison Beach, Javon Purifoy and Magan Bellflower Photo/Ben Nelms.
The announcement by Children's Healthcare of Atlanta (CHOA) that its audiology and outpatient rehabilitation services provided at Piedmont Fayette Hospital will no longer be available by the end of the year has some of the parents of young patients wanting CHOA to reverse its decision.
CHOA last week said while audiology and outpatient rehabilitation services would be discontinued at Piedmont Fayette, six other existing services would continue to be offered at its Fayette location. CHOA audiology and speech therapy will be relocated to two hospitals in Atlanta and one in Kennesaw.
Some parents learned of the change late last week, while letters to parents outlining the coming changes were received Wednesday.
Parents from Fayette, Coweta, Spalding and area counties were quick to go into action, establishing a Facebook page on Sept. 13. The page can be found at "Speak Up for the South Side." The Facebook page includes an online petition.
Griffin resident and the mother of a young patient, Cierra Beach said the outpatient services to be discontinued at Piedmont Fayette include physical therapy, occupational therapy and speech therapy for young children.
"Kids with a severe speech diagnosis can require speech therapy and occupational therapy three or four times a week," Beach said. "There are other options, but a lot of us looked into it, and most small practices in our area are already overwhelmed with the number of existing patients and have a three-month waiting list."
"It takes a kid a long time to gain trust with a therapist, so it's like starting over," Beach continued, explaining that there is more to the issue than driving long distances to receive needed therapy.
An additional problem, said Beach, is that families with military insurance often find that small practices in local communities will not accept TRICARE insurance.
"So we want CHOA to reverse the decision that affects children, parents and therapists," said Beach.
Information provided to parents by CHOA said, "In an effort to optimize the care we provide for our patients and ensure we are delivering the best experience, Children's Healthcare of Atlanta will be consolidating the outpatient and rehabilitation services currently offered at six of our locations."
Commenting on the cessation of audiology and outpatient rehabilitation services in Fayette, CHOA Public Relations Manager Jessica Pope said, "Over several years, we've seen a decline in volume to the point where it is not practical to deliver outpatient rehabilitation care at these locations. While it may appear that affected clinics are busy, that is due to how we adjust our clinic days, hours and staffing based on scheduled patient visits."
CHOA said audiology and outpatient rehabilitation will no longer be offered at Children's at Fayette by Dec. 31. Children's at Fayette will remain open and will continue to offer other pediatric services.
Those services include ENT, General Surgery, Gastroenterology, Marcus Feeding, Orthopedics, Orthotics and Prosthetics and Sports Physical Therapy, Pope said.
As for audiology and outpatient rehabilitation services to be relocated, those will be offered at Children's Medical Officer Building at Scottish Rite Hospital in Atlanta, Children's at North Druid Hills in Atlanta and Children's at Town Center Outpatient Care Center in Kennesaw.