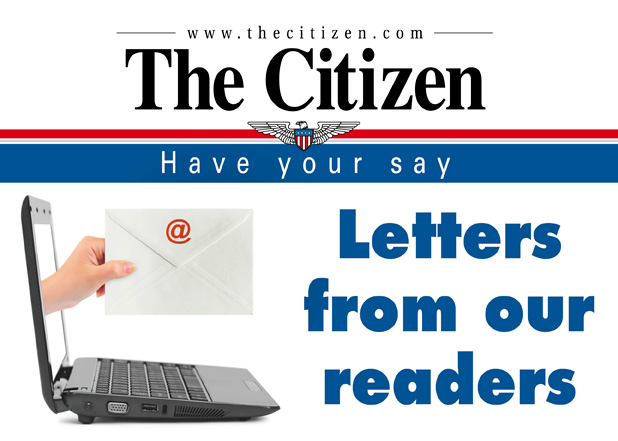 A recent letter published in The Citizen argued for a lot of the usual left-wing gun control measures to curtail mass shootings. I apologize for the length of this response, but there is so much in the letter that I disagree with that I haven't been able to keep this brief. The author throws out rather vague ideas which may sound reasonable, but as is usually the case, "the devil is in the details."
The author argues that we should "Enact common sense gun control measures that 90% of Americans want." I'm not sure where she got her 90% figure, but there is a big divide among citizens in this country over what would reflect common sense here.
One side wants to disarm law abiding citizens while the other thinks we should enforce existing gun laws just for one example. Do you think Democrats would agree to support "common sense border security measures"? What? C'mon, they're common sense.
The author says we should ban "assault weapons." First, there is no universal definition of an assault weapon. In the 1990s Congress passed and President Bill Clinton signed an assault weapons ban, which has since expired. Statisticians disagree over whether the law had any affect on crime at all. The law defined assault weapons in a pretty arbitrary way, including purely cosmetic differences.
The author claims, "There is literally no reason for a non-police individual to have these weapons of war that are only designed for killing many people." Since we don't know what she is referring to as an "assault weapon" it's difficult to figure out how she makes this claim.
Some time ago a friend made a similar statement, and when I asked a couple of questions to try to understand her position, I quickly found out that she didn't know that automatic weapons (i.e., machine guns) are already essentially illegal.
When I mentioned semi-automatic weapons, she asked me, "What does semi-automatic mean?"
I fear the author has a similar level of understanding of guns. And just for the record, the dreaded AR-15 is not a "weapon of war."
If two or three bad guys are breaking into your house and you are forced to defend yourself, you'll probably find that, unlike in the movies, you might not hit your target with every shot. Under that type of stress, most people aren't very accurate. And, again unlike in the movies, if you hit your target, one shot may not stop them. So, if you're left with a gun that only holds 6 rounds (or less, perhaps we're only allowed one bullet, after all it worked for Barney Fife), good luck.
Next we have the recommendation that we "Enact 'red flag' initiatives and laws that allow the identification of individuals who may be prone to one of the aforementioned three reasons for domestic terrorism."
Democrats tell us that we can't have voter ID requirements because government will, through either incompetence or malice (or both) deprive people of their right to vote. But let's give government the power to strip you of your Constitutional and natural right to self-defense because you've been "identified as someone who may be prone."
Of course, no one would ever abuse this type of law – no ex-spouse, ex-boyfriend or ex-girlfriend, disgruntled former employee, neighbor who can't tolerate your political views (ask Rand Paul about that). And, of course no government employee would ever abuse this type of power like Lois Lerner did or the FBI did to Dr. Martin Luther King Jr.
Just to give you an idea of how this can go wrong, take the case of Carol Bowne, a New Jersey woman who was murdered by her ex-boyfriend while waiting for a gun permit. Oh, I forgot to mention that she applied for the permit six weeks before she was murdered.
I don't know if this is a case of simple incompetence or if the Democrat-run state intentionally drags these things out, but she already had a restraining order against the ex-boyfriend and she had no criminal record or other "red flag."
John Stossel detailed a similar experience in New York, despite meeting all the criteria to get a permit, the city managed to keep putting him off. I don't remember if he ever did get a permit.
I'd also note that is cruelly ironic for Democrats to propose "red flag" initiatives when they are the source of so much PC pressure that causes people to keep quiet when they see something suspicious. The Parkland school shooting may have been avoided were it not for Obama administration "guidelines" that warned schools not to discipline non-white students.
Further irony, the author admonishes us to "stop the rhetoric that fuels racism and hate and incites those exhibiting ideological extremism to act" – this from the political side that calls its political opponents Nazis and inspires political violence that it will not condemn.
This paragraph is quite a doozy: "Give federal and state law enforcement agencies more power in enforcing laws on domestic terrorism and make it a priority. Ideological extremism should be identified and named and such cases should open greater avenues for both investigation and punishment as the hate crimes and domestic terrorism they are."
I'm not sure what this really refers to, but it sounds like a shot at undermining the First Amendment, too. Just FYI, "1984" was not supposed to be a "How To" guide.
Other than that …
Steve Metz
Peachtree City, Ga.