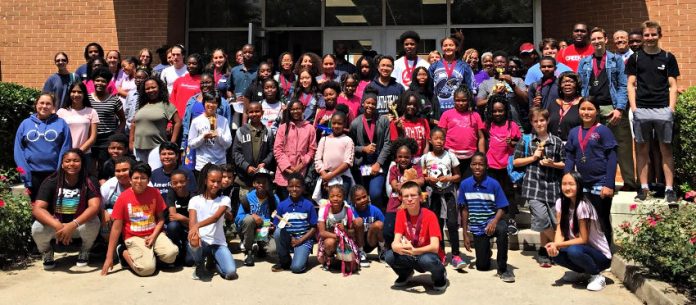 Fayette students dominated the eighth annual Math Competition Bootcamp at Morehouse College with students from North Fayette Elementary, Flat Rock Middle and Sandy Creek high taking top placements at all grade levels in the competition.
Between the three schools, there were eight first-place wins and four grade-level sweeps.
Sandy Creek High swept the 11th and 12th-grade divisions. At the 11th grade level, Daniel Antoine took first followed by Aleks Stec in second, and Lily Mai in third. In the 12th grade competition, Brandon Worrell finished first, Noah Bridgeman was second, and Zuzu Vidourek took third. Additionally, Vince Phan and Aaron Bryant took first and third, respectively, in the ninth grade division, and Sydney Schulten and Caleb Adams took first and third, respectively, in the 10th-grade division.
As if these victories were not enough, Sandy Creek High senior Spencer Hodge was awarded the best overall award, the Phaidra Buchanan award, which is named in honor of the 2017 Sandy Creek Alum who was a four-time winner of the award.
Flat Rock Middle swept the seventh and eighth-grade divisions. Placing at the seventh-grade level were Tiffany Ngo, first; Deisy Anaya Plascencia, second; and Melinda Crowe, third. Placing at the eighth-grade level were Morgan Bryant, first; Baotram Hoang, second; and Brooklin Downing, third. In the sixth grade division, Luis Velasquez took first and Tyler Byrd was second.
North Fayette Elementary students James Adams and Ally Moore took first and second, respectively, in the fifth-grade division.
Pictured: Students from Sandy Creek High, Flat Rock Middle and North Fayette Elementary celebrate their victories on the Morehouse campus following the competition.