It's 8:50 am on a Monday morning. At The Real Life Center, people emerge from their offices, the warehouse, break area, and front lobby to stand together and ask blessings on the day ahead, and on those they come to serve.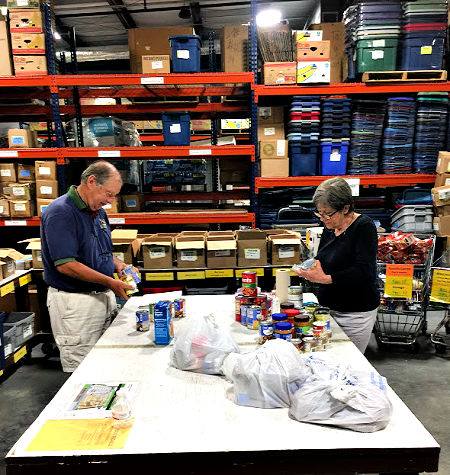 Alongside the staff, who are fueled by a mission to see lives changed, stand dedicated volunteers, like the air traffic controller who serves before going to work, as well as a retired couple who want to spend their time making a difference. They join hands with a young mother who wants to bring light to another's day while her children are at school, the homeschooled high schooler who demonstrates an eagerness to change the world, and the former pastor who wants to share the love of Christ. Those who gather come from different walks of life, but have one thing in common – the desire to be a part of something greater than themselves and bring hope to those who walk through the door.
The Real Life Center is this special place where people from all over the community gather to serve. It is where businesses, schools, individuals, and churches collectively support the mission of neighbors helping neighbors.  The RLC is a faith-based non-profit whose mission is to walk with those who are hurting in Fayette and Coweta counties. In addition to meeting the initial financial needs of families, RLC also provides food, clothing, and educational programs designed to be a catalyst for real change, with the end goal of reaching stability.
Each day approximately 30 families are served. Each day a family experiences joy from receiving fresh produce and meats they would not otherwise be able to afford. A mother feels the relief of clothing her growing children, without spending money needed for bills. A father is reassured knowing his kids will confidently go to school with a new backpack filled with supplies he could not purchase.
A lonely widow finds friendship with other seniors enjoying a delicious breakfast. An unemployed husband holds his head higher, knowing his rent will be covered and his family will be able to remain in their home. A roomful of adults gain practical knowledge in a class on emotional health.
A single mother, who felt she was walking her journey alone, now feels encouraged by a hug and a prayer from a volunteer. Monday-Thursday mornings and Thursday evening, lives are being transformed! The Real Life Center is a beautiful picture of neighbors helping neighbors.
Volunteer Spotlight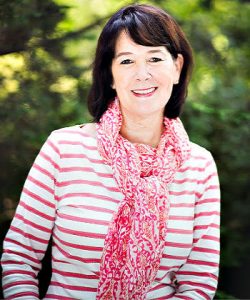 Anne Quiello, volunteer assessment counselor at the Real Life Center, believes we all need a leg up at some point in our lives.  She has received that "leg up" on multiple occasions and looks for opportunities to do the same for others.
"I see first-hand the power of goal-setting and personal responsibility," says Anne.  "The Real Life Center's approach is to meet immediate needs and also unleash potential for the longer term. Each person I see sets goals for the next 12 months, and we discuss specific steps to accomplish them. There's follow-up every three months to see how they are progressing toward their written goals and what might be getting in their way. I also have the privilege of sharing God's love. To serve and share, it doesn't get better!"
How You Can Help
At the Real Life Center, you can serve families, sort donations, hold a food drive or fundraiser, share your expertise or gift a financial donation.  By volunteering at the 3.5-acre Real Life Orchard and Garden, you provide nutritional produce for the Center's families by helping to grow, nurture, and harvest the produce. 
For volunteer opportunities, visit www.RealLifeCenter.org/Get-Involved.
Harvest for Hope
The 4th annual Harvest for Hope Gala will be held on Thursday, September 12, 2019, at 6:30 pm at Glendalough Manor in Tyrone.
The Real Life Center invites friends and supporters to break out their western boots, brims, and bling for a night of delicious food, lively music, and hearing sweet stories of real change happening in our community.
Proceeds from the gala will benefit the mission of the Real Life Center by enhancing current family-based services, programs, and operations, including life coaching, financial counseling, and educational classes, so the Real Life Center can serve more families in the future.
To purchase tickets or sponsorships, please visit www.HarvestForHopeGala.org.
Photos by Bonnie Helander