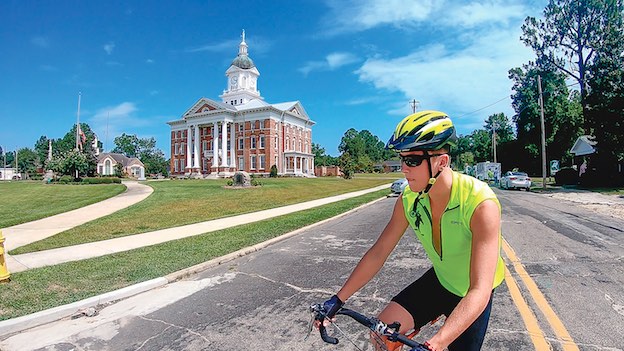 A 16-year-old from Fayette County named Camden was one of five cyclists to recently participate in the 500-mile, 14th Annual Paul Anderson Bike Ride through portions of Georgia and Florida. As with other aspects of his time at the Paul Anderson Youth Home in Vidalia, Camden continues to recognize that God's influence in a person's life makes all the difference.
Camden, along with four other current residents of the Paul Anderson Youth Home (PAYH), participated in the 14th annual Paul Anderson Bike Ride from July 15-20 through portions of Georgia and Florida over a 500-mile course. The annual bike ride challenges participants, one mile at a time, to push through personal barriers and past addictions, which they have been working to overcome during their stay at PAYH. Facility Director Stephen Nichols said PAYH is a transformative organization that works with the juvenile system and helps young men ages 16-20 overcome addictions and unhealthy lifestyle patterns through a holistic approach.
The intent of the 14th Annual Paul Anderson Bike Ride is to honor the Olympic legend's mission to transform the lives of troubled youth, the organization said.
The group began the ride in Flagler Beach, Fla., and continued north through Ponte Vedra before crossing into Georgia. Once in Georgia, the ride included stops in St. Simons, Savannah, Augusta and Statesboro before ending in Vidalia.
Speaking about why he is currently residing at PAYH, Camden said it was in the ninth grade when he began to develop a serious problem with authority.
"I hated when people tried to stop me from doing what I wanted to do," Camden explained. "To deal with my frustration, I took up drinking, and slowly started experimenting with harder drugs. Things escalated quickly and before long they blew up in my face and family sent me to PAYH."
Commenting on the 500-mile bike ride, Camden said, "It showed me I can do anything I put my mind to as long as I ask God to help."
Camden's mom, Erin, also noted the difference she sees in her son.
"With the changes I've seen in Camden since the bike ride, he's more confident and has more self-worth since completing it," Erin said.
And for Camden, his transition into another way of seeing things began to take shape. After three months which, among other things, included the bike ride and a variety of intense physical activities, Camden said, "I realized that there was more to life than me just doing exactly what I want."
Speaking about his time at the youth home, Camden said it has helped him to turn himself around.
"I'm thrilled to be a part of the bike ride again this year because what we're doing is so much bigger than pedaling hundreds of miles through different cities for a week," said Fritz Olnhausen, PAYH board member and alumni parent. "This ride celebrates all that our boys have overcome and accomplished during their time at Paul Anderson Youth Home. Our ultimate hope and prayer is that the ride reminds these boys that anything is possible with hard work and dedication."
In 1961, Anderson founded the residential home as an alternative to incarceration for young men struggling to find the God-given purpose in their lives. The 14th Annual Bike Ride continued to spread the message of the transformative work the Christian rehabilitation home has done in the lives of countless troubled teens over the last 58 years, as well as the preventative resources it provides to parents and families, PAYH staff said.
PAYH helps young men overcome addiction and unhealthy lifestyle patterns by planting God's word in their lives, providing therapeutic counseling and substance abuse treatment, providing an accredited college preparatory high school and vocational training and providing a transition program for young men as they re-enter society, PAYH sid.
Paul Anderson Youth Home also equips families to detect and respond to troubling behavior. To learn more about PAYH and family resources, visit payh.org.