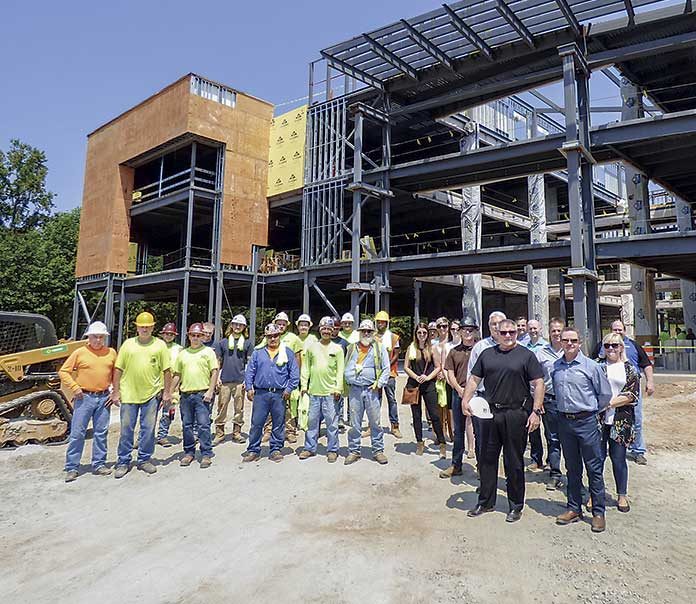 SMC3 expects to complete move in 2020 — 
A signal that the new SMC3 headquarters on Lexington Circle in Peachtree City is moving toward completion came Aug. 1 when construction workers were joined by company owners, architects and others for a "topping off" event at the building site.
Topping off comes when the last beam is placed atop a structure during its construction.
"We're thrilled and excited with the great work," said SMC3 CFO Tom Monheim to construction workers. "It's a short move (from the current location) for us, but it's a big move."
Coming in at up to 80,000 sq. ft., the building will be the new corporate headquarters of SMC3 and is expected to open in early 2020.
With an 88-year history, and with offices currently located on Westpark Drive, SMC3 is a nonprofit corporation and is the leading less-than-truckload (LTL) data and solutions provider to help optimize LTL freight.
The new 3-story headquarters, designed by Jefferson Browne Gresham Architects and built by South-Tree Enterprises, will include a three-story atrium, smart glass, acoustical metal decks to improve sound absorption and extensive natural lighting.
The building will feature a curved facade of mostly glass, with brick and gray slate, Tennessee field stone and metal panels in colors of copper or zinc.
The broad expanses of windows are broken up with stone pilasters. The curved building facade is further accentuated with a cantilevered open-frame awning projected from the roof, Browne said in July 2018 when the project was approved by the Peachtree City Planning Commission.
SMC3 President and CEO Andrew Slusher after the January groundbreaking said, "In the last few years, it's been quite clear that SMC3 has outgrown its current location. Instead of simply moving into an existing space, we took the opportunity to create a headquarters that has been designed to enhance productivity and collaboration among team members and with our customer base. In this new building, we look forward to delivering even more innovative solutions that solve our customer's supply chain issues."
SMC3 representative Jon Ross previously said SMC3 in the past several five years has experienced tremendous gains in both its employee and customer bases. The company now counts more than 130 employees in its Peachtree City and Louisville, Kentucky locations. During that time, SMC3 has introduced a number of game-changing solutions, base rates and analytical tools that help clients optimize the LTL portions of their supply chains. The new headquarters building will allow SMC3 to continue this growth, Ross said.
Ross said SMC3's continuous innovation and authority in LTL rating and transit time solutions is the result of decades of expertise in the transportation arena. With its range of logistics and supply chain solutions that integrate seamlessly into current business systems, SMC3 supports customers' needs as they grow, whether they're dealing with 10 shipments or 10,000 shipments per day, Ross said.
Headquartered in Peachtree City, SMC3 also has offices in Louisville, Kentucky, and Rockville, Maryland.