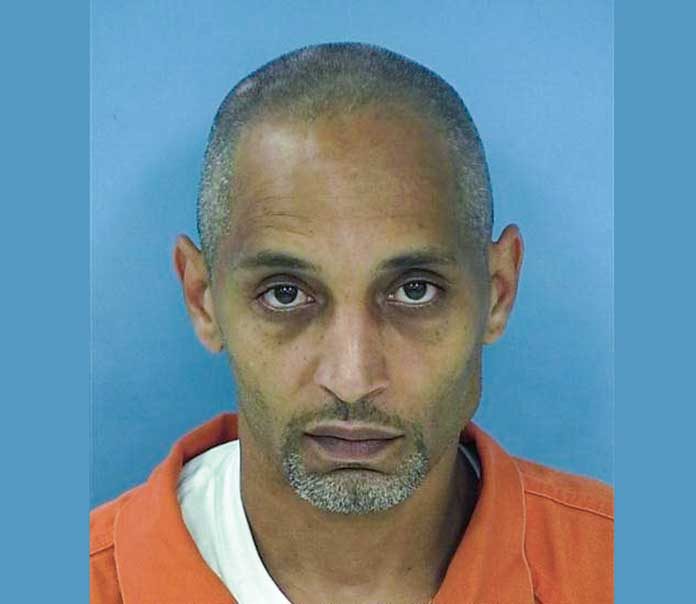 Sam Latzzis, III from a previous arrest. Photo/Fayette County Sheriff's Office.
Update – July 19, 8:15 p.m.: Fifty-one-year-old north Fayette County resident Sam Latzzis, III is on the run after eluding deputies at a standoff at his residence on July 19.
Sheriff Barry Babb said that during the more than three-hour standoff at the residence, and during continued negotiations with crisis intervention investigators, Latzzis stepped outside the house carrying a rifle and fired in the direction of deputies, striking no one.
Babb said deputies quickly realized that the weapon was a pellet-type rifle and did not return fire.
Latzzis commented on several occasions that he wanted to give up, then withdrew that claim. Latzzis on one occasion went toward deputies after having duct-taped knives to his hands. Deputies responded by deploying a less lethal impact weapon, Babb said, adding that Latzzis then retreated back into the house.
Latzzis subsequently pretended to surrender, and while wearing a heavy jacket apparently to defeat a taser, bolted from the house and ran into the nearby wood line and swamp at Morning Creek. Babb said Latzzis did not have a knife in his hand, adding that deputies were unsure if he had a weapon under his jacket.
K-9 units tracked him to a nearby road where the scent stopped, Babb said, adding that he was apparently picked up by an unknown person. Babb said the heavy jacket was found in the swamp.
"We go to great lengths not to have to use deadly force," Babb said. "This is a good example of trying to solve an incident with minimal force and with the perpetrator taking advantage of it. He kept pushing our perimeter we had set up, until he found a weakness in it."
Deputies were originally called to the residence after Latzzis attacked his brother with a bat, Babb said.
Babb said Latzzis has prior arrests in Fayette County and has several prior escape charges from Illinois.
Original story: A July 19 domestic call in north Fayette County resulted in a multi-hour standoff with a man threatening to kill himself after barricading himself in his home. The man was able to flee the house on-foot after more than three hours of negotiation and is being sought by deputies.
Sheriff Barry Babb said dispatchers at approximately 1:06 p.m. received a call concerning a domestic incident at a residence in the vicinity of Ga. Highway 314 and Kenwood Road in north Fayette.
Deputies arrived at 1:12 p.m., and learned that the man had allegedly been involved in an altercation with one or more people in the home and had run them out of the house, saying that he was essentially going to commit "suicide by cop" and burn the house down, Babb said.
Officers at the scene, including SWAT, began negotiating with the man, who on occasion would come outside then go back inside the home, Babb said.
At approximately 5:30 p.m., after more than three hours of negotiating, the man, whose name is not yet available, was able to exit the house and run into the tree line in the direction of the nearby Morning Creek watershed area, said Babb.
The man was described as light-skinned, and wearing black shorts, a black tank top and red shoes.
Babb said it was not known if the man was armed.