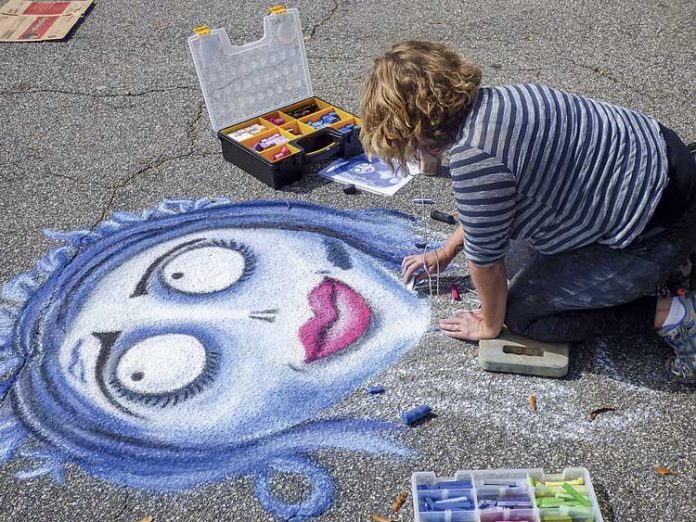 Artists of all ages are invited to downtown Fayetteville to create their best chalk artwork for the Friday Night Live Chalk Event.  This event will be held on Friday June 14, 2019 from 6 p.m. to 10 p.m.  The location will be on Jack Demettering Way on the East side of the Courthouse in Fayetteville.  There is no cost to participate. 
The Fayette County Public Arts Committee is hosting this chalk event in conjunction with Main Street Fayetteville.  Emerging artists are invited to compete in our chalk art contest with prizes awarded as follows; 1st  place $100, 2nd place $75, and 3rd place $25.
Participants will be assigned a 4'x4' space to create a unique work of art.  Chalk will be provided for each participant.  Artists are welcome to bring their own materials to add variety.  For example, charcoal will give a black color and chalk pastels will make a brighter, more vivid color.  Chalk must be water-based. If you choose to bring your own materials, only water soluble materials are permitted.  Permanent media are prohibited.  All supplies must be presented at check-in for inspection.  Creativity is encouraged, but the art must be appropriate for viewers of all ages.
There will also be a community area for walk-up participants and children to chalk along with us.  Chalk will also be provided for this space. 
The Public Arts Committee encourages participants to pre-register for a space.  Walk-up artists will be permitted on a first come first served basis on the day of the event. 
To sign up for a chalk space or for more information contact the Fayette County Public Arts Committee at fcpac@fayettecountyga.gov.
Friday Night LIVE gets creative on June 14
Friday Night LIVE returns to the Historic Fayette County Courthouse lawn on Friday, June 14, for the second of a four-event series. After a huge success at the initial Friday Night LIVE event, Main Street Fayetteville is excited to announce the theme for this upcoming event will be "Create with Us."
Featuring all sorts of art experiences, including sand art, rock painting, face painting, chalk art, and henna painting, Friday Night LIVE will be open 6-10 p.m. Artisans will also be demonstrating woodworking, pottery making, jewelry crafting and more.
On the courthouse grounds, there will be lemonade, cotton candy, local honey, boiled peanuts, coffee, beer, wine and gourmet dried apples. Rick's Ribs food truck will be on hand, and, of course, participants are encouraged to try the restaurants around the Old Courthouse Square. DJ Rodney will provide musical entertainment.
"Our first Friday Night LIVE event was a lot of fun," said Main Street Fayette Program Manager Joyce Waits. "It was fun seeing so many families out and to see kids dancing and having a good time with all of the glow-in-the-dark attractions. This upcoming Friday Night LIVE will be a lot of fun, too, especially with the Fayette County Chalk Art Festival taking place during our event."
Waits noted that pre-registered Chalk Art Festival participants will be assigned a 4-foot by 4-foot space in the competition zone, while anyone else can walk up and pick a spot in the community area. Those wishing to participate in the chalk art completion may contact fcpac@fayettecountyga.gov.
"That will be an exciting addition to our event," Waits said. "It's amazing the creations that take shape right before your eyes."
Waits noted that a few retailers on the Old Courthouse Square stayed open late during the previous Friday Night LIVE, and they were pleased at how many customers wandered over from the event into their stores.
"We hope that happens again this Friday," Waits said. "Our shops on the Square are destinations in themselves, and we appreciate them accommodating our Friday Night LIVE attendees by staying open a bit later than normal."
Something new for this event is the SNAZ (Special Needs Accommodation Zone) booth and RV, which will provide a place for those who need to relax and regroup as well as a diaper-changing station for all ages, clean areas to change feeding tubes, and a quiet and private breastfeeding area. SNAZ is provided by Southside Support, Inc.
The third and fourth Friday Night LIVE events have been scheduled for July 19 and August 16, and there are plenty of vendor and sponsor opportunities still available for both. Learn more by calling Joyce Waits at 770-719-4173 or e-mailing jwaits@fayetteville-ga.gov.