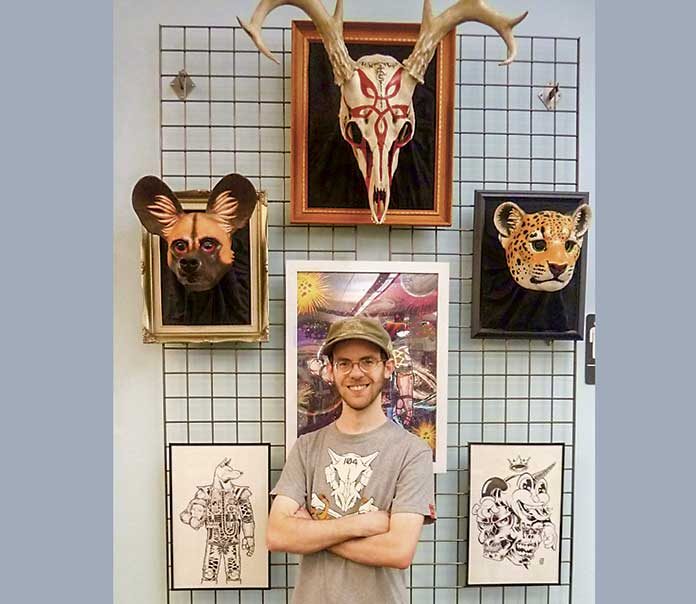 Reception is June 2
Three artists will exhibit their fantastic pop art in the Peachtree City Library Art Initiative in May-June. Eric Strother, Ramsey Sibaja, and Miles Davis will exhibit their art derived from the world of superheroes and fantastic worlds.
The show runs May 2 through June 28, with an "Art Sunday" reception planned on June 2 from 3 to 4:45 p.m.. The reception will also include the artists exhibiting with Fayette Society of Fine Art and Newnan-Coweta Art Association artists, as well as photographers from the Peachtree City Photography Club. The event is held in the Readers & Writers Room at the Peachtree City Library, 201 Willowbend Road, Peachtree City, and is open to the public.
Eric Strother
Eric Strother will feature his whimsical and fantastical masks. Strother, a native of Newnan, Ga, studied painting at Boston University and graduated with a BFA in 2012.
His masks combine the idealized forms of animals and skulls with the shape of the human head. The wearable masks are sculpted using papier mâché, oil clay, and casting resins with additional layers of detail using acrylic and oil paints.
Recently, Strother has begun working with digital virtual reality sculpting and 3D printing, which have allowed him to create more complicated forms with extruded thermoplastics.
Ramsey Sibaja
Ramsey Sibaja focuses on commercial art and client needs with his Raz City studio. He creates black and white illustrations which he scans to add color digitally.
"My art does tend to frequent the low brow/indie genres of art," Sibaja says.
He will present some of the original ink illustrations along with the digitally-colored final artwork which often wind up on T-shirts and other apparel or on skateboard decks.
Sibaja's two major influences on his art have been pop culture and music. Living in the Los Angeles area, he was impressed by the hot rod kustom kulture vibe with artists like Ed "Big Daddy" Roth and his Ratfink character as well as the big lowrider movement. Saturday morning cartoons such as Thundarr the Barbarian, Spiderman and His Amazing Friends, Dungeons and Dragons, TV, movies, comic books and music impressed and sustained his art with influences from heavy metal and punk rock imagery as well as horror and science fiction.
Later, the more nostalgic pop culture references began appearing in art. Sibaja prefers the bold graphic linework found in comic books.
Miles Davis
Fine artist Miles Davis's work spans an array of subject matter from spiritual native to politics, funky florals, and whimsical illustrations. His paintings borrow aesthetics from mass media, calling back to his generation's culture of comic books and video games.
The subject matter often portrays the contradictory impulses of people's moral compasses and animal instincts, whether happy, remorseful, or brutal. Due to the diverse scope of emotion and transcendental qualities available in his pieces, Davis's work has connected and resonated with a wide audience. Davis hopes the viewer can take from the work a sense of the universal human condition and possibly look inside themselves and evaluate their own spiritual sensitivities.
His artwork has been embraced by thousands of people worldwide. His paintings are included in corporate and private collections throughout the United States.
While exhibiting in various local and regional galleries and shops, Davis also teaches art classes and private lessons to children and adults. He is an active member on the board of the South Cobb Arts Alliance. In addition, he and his wife, Merissa Corbet Davis, are co-creators of the children's book series Butterpup & Friends™.
For more information on the Peachtree City Library Art Initiative, contact co-chairs Honey Corbin and Rebecca Watts at ptclib.artevents@gmail.com.