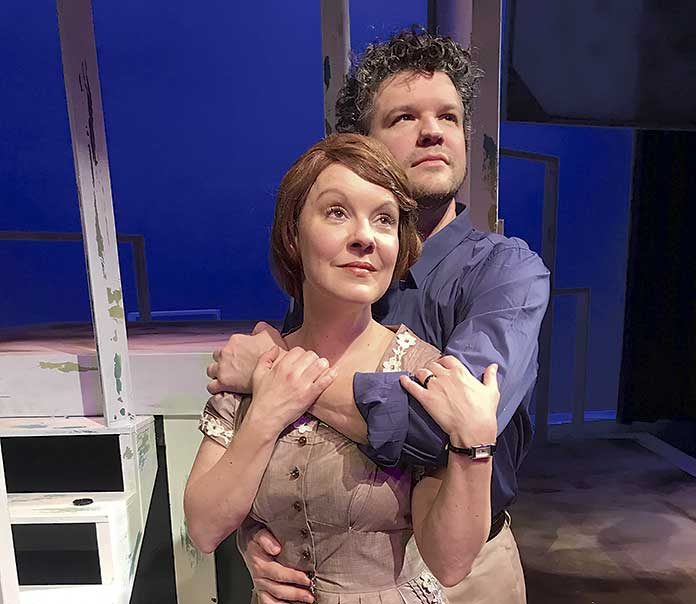 Show opens Friday at The Legacy Theatre
Based on the bestselling novel and popular film, The Bridges of Madison County is a ravishingly beautiful musical from beginning to end. 
Francesca Johnson, a beautiful Italian woman who married an American soldier to flee war-ravaged Italy, looks forward to a rare four days alone on her Iowa farm when her family heads to the 1965 State Fair. When ruggedly handsome, National Geographic photographer Robert Kincaid pulls into her driveway seeking directions, though, what happens in those four days may very well alter the course of Francesca's life forever. 
Starring as Francesca is Leah Jennings. Jennings starred as Molly in the National Tour of The Unsinkable Molly Brown, and Milly in the tour of Seven Brides for Seven Brothers. Other credits include roles with Great Lakes Theatre, Idaho Shakespeare, and Cumberland County Playhouse.
She returns to Tyrone for this show after portraying Julie in Legacy's Some Enchanted Evening.
Starring opposite Jennings as photographer Robert Kincaid is her real-life husband and Broadway performer, Stephen Mitchell Brown. Legacy's audiences will remember Brown from Rocket Boys and Jane Eyre. Stephen was in the original cast of Jekyll & Hyde on Broadway and is currently on tour with The Phantom of the Opera. 
"As soon as I heard this music, I wanted Leah and Stephen to perform it," says director Mark Smith. "So as soon as we were able to produce it, we started planning. They are incredible performers and I can't wait for the audiences to hear this music! It's such a heartfelt story and I know this cast tells it in a beautiful, moving way."
The production is music directed by Jodi Cotton, with a scenic design by Phil Male, lighting design by Bryan Rosengrant, and costume design by Jane Kroesig. Returning to Legacy in this production are Janine DeMichele Baggett (Million Dollar Quartet/Lend Me a Tenor), Tara Chiusano (Rocket Boys/Music Man), Paul Glodfelter (Footloose/Mary Poppins), Nancy Riggs (Footloose/Nunsense), and Shelby Terrell (Away in the Basement). The show also features Drew Andersen and Ike Wellhausen making their Legacy debuts and a live band led by Joanna Li.
The Bridges of Madison County, based on Robert James Waller's 1992 novel, features a Tony-Award Winning score by composer Jason Robert Brown (Parade, The Last Five Years). It opened on Broadway in 2014 and now audiences all over the country are falling in love with this show. The musical captures the lyrical expanse of America's heartland along with the yearning entangled in the eternal question, "What if…?" This sweeping romance about the roads we travel, the doors we open, and the bridges we dare to cross will leave audiences breathless.
Following The Bridges of Madison County, The Legacy's thirteenth season will conclude with the Georgia Professional Premiere of the amazing smash hit, Matilda, classic children's book of the same name and features a cast of professional performers in addition to several casts of local children.
The Bridges of Madison County runs April 26th through May 19th with performances Fridays & Saturdays at 8 p.m. and Saturdays & Sundays at 3 p.m. Adult tickets are $30-$40, Senior & Student discounts are available as well as discounts for groups of 20 or more. Tickets and subscriptions can be purchased online at www.thelegacytheatre.org or by calling the Box Office at 404-895-1473. The Legacy Theatre is located at 1175 Senoia Rd. in Tyrone, GA.