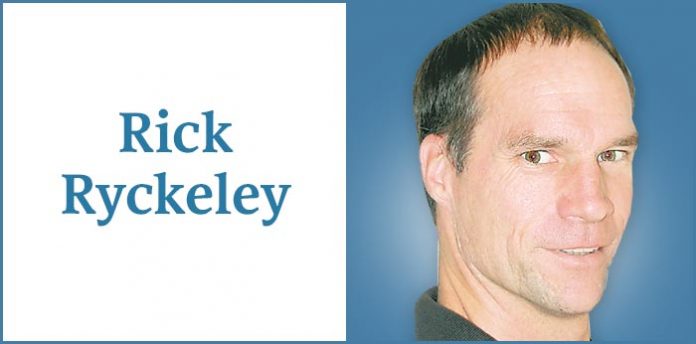 Count slowly backwards — to where it all began. Back to a vacant lot a long, long time ago on that old familiar street not so far away, and to that boulder. Balancing precariously on the edge of the cliff, it was just begging to be toppled by my three brothers and me.
Our mission that warm Saturday was to push the car-sized hunk of granite over the 30-foot cliff. Goofy Steve, Preston Weston III, and Bubba Hanks soon joined us, but we still couldn't move the massive stone. Not even an inch. That's when Bubba had an idea, "Let's dig around it."
We all dug and dug and then dug some more. But no matter how much we pushed, the mighty obstacle wouldn't give. Then I remembered what Dad had told me, "When things get hard, put your head down and put your shoulder into it."
We dug a little more. Everyone started to push as I ran and then plowed into it with my right shoulder. Teetering for moments before crashing down the cliff to the ravine finally landing in a pile of dust — it was magnificent!
And it was something else, a start of a long journey — one that would last almost a lifetime. Eventually it would end on an operating table, with a skilled surgeon, nurses and anesthesiologist looking over me.
Count slowly backwards from a hundred. Yours Truly threw hundreds upon hundreds of water balloons against many adversaries for those seven magical years we lived on Flamingo. In our pre-game ritual, hundreds of dirt clods were also hurled, defeating the hoards of little green army men under the football bleachers of Briarwood High School, home of the Mighty Buccaneers.
Throwing water balloons and dirt clods are both repetitive motions that can ultimately result in permanent shoulder damage, damage that can take years to become obvious and start causing serious health issues.
Count slowly backwards from a hundred and take a deep breath. Breathing deeply was impossible while wedged into the narrow drainpipe 30 feet under Flamingo. Frantic, shallow, gasping breaths were all I could manage as Big Brother James urged me to continue forward. Inch by agonizing inch, we shuffled on our backs by pushing off heels and hunching our shoulders through the spider web-infested drainpipe.
A lifetime later, we both emerged out the other end, out of total darkness, out of energy, but not out of danger. A two-hour ordeal, our journey through the underground nightmare maze of pipes, had taken its toll on our young minds and bodies. To this day we are both claustrophobic, and now reaching overhead has become increasingly difficult.
Count slowly backwards from a hundred, take a deep breath, and relax. "Relax. I know what I'm doing," were the last words I spoke before falling. Suspended high overhead by a rope tied around my ankles, I struggled to escape from the straight jacket before the rope burned through. The sound the rope made as it started to break was like guitar strings being plucked.
I then suddenly realized my mistake. Unfortunately, it was too late. Bystanders commented it was a miracle I survived the 30-foot fall without injury. It was indeed a miracle. But a sudden deceleration and impact from that great height did indeed produce an injury. It lay dormant, undetected until much later in life.
Count slowly backwards from a hundred, take a deep breath, and relax. Recovery takes about four months. With the bright lights of the operating room starting to fade away, I hear the surgeon's reassuring voice, "Don't worry, you'll be able to hug you granddaughters soon." Four months is a lifetime to wait … if you're a 5- or a 6-year-old.
But wait you must, Sweet Caroline and Little One. Your Big Papa is getting a brand new shoulder so he can hug you even better. It's compliments from a life well lived.
[Rick Ryckeley has been writing stories since 2001. To read more of Rick's stories, visit his blog: storiesbyrick.wordpress.com.]