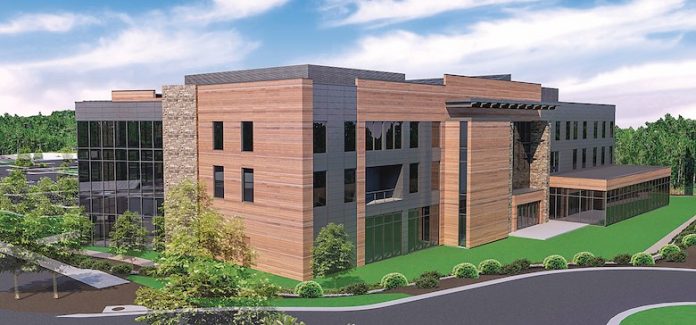 Efforts that will lead to the construction of the new headquarters for Peachtree City-based transportation technology company SMC3 (Southern Motor Carriers Association) on Lexington Circle are underway. Completion of the 80,000 sq. ft. office building is expected in March 2020.
On Jan. 30, the final day of the Jump Start 2019 supply chain conference in Atlanta, SMC3 staff, members of the board and President and CEO Andrew Slusher broke ground on the transportation technology company's future headquarters in Peachtree City. Company officials said completion is scheduled for March 2020.
With an 87-year history, and with offices currently located on Westpark Drive, SMC3 is a nonprofit corporation and is the leading less-than-truckload (LTL) data and solutions provider to help optimize LTL freight.
The 3-story headquarters will include up to 80,000 sq. ft. The building will feature a curved facade of mostly glass, with brick and gray slate, Tennessee field stone and metal panels in colors of copper or zinc.
The new headquarters, designed by Jefferson Browne Gresham Architects and built by South-Tree Enterprises, will include a three-story atrium, smart glass, acoustical metal decks to improve sound absorption and extensive natural lighting.
The broad expanses of windows are broken up with stone pilasters. The curved building facade is further accentuated with a cantilevered open-frame awning projected from the roof, Browne said in July 2018 when the project was approved by the Peachtree City Planning Commission.
"In the last few years, it's been quite clear that SMC3 has outgrown its current location," Slusher said after the groundbreaking. "Instead of simply moving into an existing space, we took the opportunity to create a headquarters that has been designed to enhance productivity and collaboration among team members and with our customer base. In this new building, we look forward to delivering even more innovative solutions that solve our customer's supply chain issues."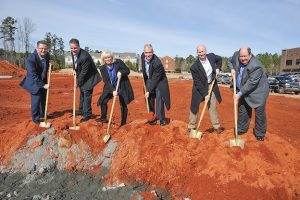 SMC3 representative Jon Ross said SMC3 in the past five years has experienced tremendous gains in both its employee and customer bases. The company now counts more than 130 employees in its Peachtree City and Louisville, Kentucky locations. During that time, SMC3 has introduced a number of game-changing solutions, base rates and analytical tools that help clients optimize the LTL portions of their supply chains. The new headquarters building will allow SMC3 to continue this growth, Ross said.
"SMC3's transportation technology tools and educational events are created for the good of the industry and to assist all stakeholders with common transportation problems," said Brent Holliday, the CEO of NTC Logistics and chairman of the SMC3 board of directors. "The new facility will allow for sustainable growth, and the development of innovative products, for years to come. SMC3 is truly in it for the long haul."
Ross said SMC3's continuous innovation and authority in LTL rating and transit time solutions is the result of decades of expertise in the transportation arena. With its range of logistics and supply chain solutions that integrate seamlessly into current business systems, SMC3 supports customers' needs as they grow, whether they're dealing with 10 shipments or 10,000 shipments per day, Ross said.
Headquartered in Peachtree City, SMC3 also has offices in Louisville, Kentucky, and Rockville, Maryland.