Fayette officials to hear pitch Oct. 2 in PTC for privately funded transit network —
The Fayette County Commission and the Fayette County Transportation Committee will hold a joint meeting Oct. 2 at Peachtree City Hall to discuss a completely different mode of transportation — flying solar pods from Boston-based Transit X.
---
Above, graphic provided by company showing a typical pod carrying four persons.
---
A preliminary proposal from Transit X LLC, the company proposes to build and operate a privately-funded solar pod network in Fayette County to carry passengers and freight, using 1,075 pods over a 43-mile network along Ga. highways 54, 74 and 85. The company maintains that it will provide non-stop service at 45 miles per hour to 140 stops along the routes, adding that 75 percent of the Fayette population would be within a 10-minute walk to one of the pod lines.
A fully-automated mass transit alternative for both urban and suburban locations, the privately-funded mobility network is designed to replace cars, trucks, buses and trains. Pods are 100 percent solar-powered, with solar cells on the tracks providing the energy to charge the pods that can carry up to five passengers, according to information provided by Transit X.
Tracks for the Transit X pods would be installed over roadway right-of-ways.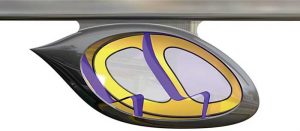 Transit X maintains that travel in its pods is more cost-effective compared to other modes of transportation. Using the company's Fair Fare Formula, the cost for a 1-mile trip on a Transit X pod would start at 49 cents and take two minutes, with a 6-mile trip starting at $2.44 and taking eight minutes. Those prices beat the price and time costs of both personal cars and Uber and Lyft, according to Transit X.
"Transit X is personal mass transit that provides non-stop, 24/7, wait-free, resilient, all-weather service that is quiet, attractive, safe and seamlessly fits within cities, beside highways and along rail corridors," the company said.
According to a company video, passengers would access the pods by way of a small stairway.
Company documents for Fayette County state that there is no public funding involved in the proposal since "revenue from fares more than covers our costs."
Transit X would design, build and operate the solar-electric infrastructure, the company said.
Transit X does offer an incentive to local governments and right-of-way owners. Local governments providing air space for the lines would receive 1 percent of gross revenue while the owner of air rights along the system would receive 4 percent of gross revenues.
Transit X LLC said it is opening its first pilot project later this year in the Boston area.
For more information on the Transit X system visit http://www.transitx.com.
The called meeting will be held at 2 p.m. Tuesday at Peachtree City Hall, located at 151 Willowbend Road.