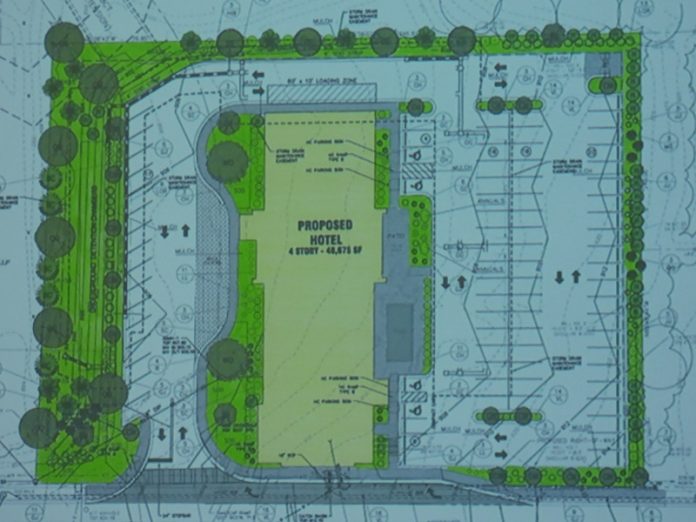 Development plans for a 4-story hotel on Ga. Highway 85 just north of downtown Fayetteville were approved Aug. 28. Hwy. 85 is shown at the bottom of the rendering. Rendering/Steve Gulas.
Development plans for Fayetteville to get a 4-story hotel on Ga. Highway 85 one block north of downtown have been approved.
The Fayetteville Planning and Zoning Commission on Aug. 28 approved the development plans by a 4-0 vote, with Commissioner Debi Renfroe absent.
The hotel property is situated on 1.81 acres along Hwy. 85 North, one block north of downtown. Plans include construction of a 4-story hotel totaling 48,675 sq. ft., with 84 guest rooms.
Developer Steve Gulas said the building will appear to be that of a 2-story hotel when viewed from downtown. He said the hotel will include a 750 sq. ft. observation deck on the roof.
The hotel will front what could eventually become the extension of Lafayette Avenue, with the majority of parking in the rear of the building on the south side.
Building elevations were recently approved by the Art and Architecture Committee. Planning staff recommended approval of the development plans and elevations.