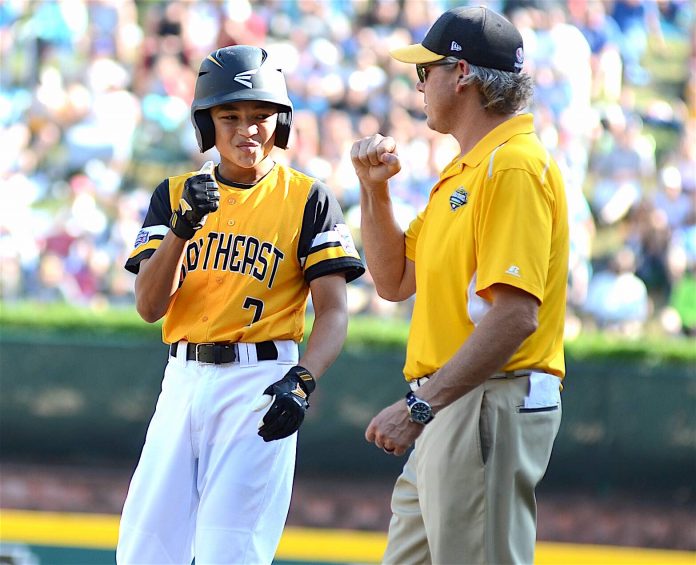 WILLIAMSPORT, PA — In the fifth inning as Honolulu's Sean Yamaguchi came to the plate Peachtree City manager Patrick Gloriod signaled to the umpire that he would like an intentional walk.
Yamaguchi had proved to be one of the most dangerous batters in the Little League World Series and the decision to walk him with two outs and nobody on base looked like the right one.
Bruce Boucher immediately made Peachtree City pay for the free pass as he lined a hard shot to left field for a run-scoring triple. The run gave Honolulu a cushion it used to finish the game and walk away a 3-0 winner to claim the United State Championship at the Little League World Series in Williamsport, PA.
"We're really strong defensively," Peachtree City manager Patrick Gloriod said. "They are just a really talented group of kids that work hard on the ball field. It shows when they are out there."
Peachtree City played another outstanding game against Honolulu after going 11-innings against it on the second day of the tournament.
Wills Maginnis turned a double in the the third when he stepped in front of a line drive and doubled a runner up a fist. The fourth inning ended with a diving catch from Bo Walker in centerfield to save a run from being scored.
The plays embodied Peachtree City's run to the United States Championship. It was full of defensive gems, top notch pitching performances, and timely hits from nearly every player on the team.
For Wills, a player who has provided defensive highlights in nearly every Peachtree City game played, it was a difficult moment as he walked off the field and headed the dugout after the loss. Wills turned the double play in the third and ended the inning by stopping another grounder for an easy throw to first.
"Wills has become one of my favorite players on team," Gloriod said. "He's so quiet and has such a great personality. He's super competitive. He's probably one of the least emotional kids on the team, but he was the one the most upset in the dugout after the game. He's tries to hide how much he cares, but he was really upset we didn't win that game."
Honolulu will advance in the Little League World Series for a game contest against the Asia-Pacific after it defeated Japan 2-1 to claim the International Championship earlier in the day. The final game will bring the nearly two-week tournament to a close. Peachtree City will kick Sunday off with a consolation game against Japan at 10 a.m.
"We are playing for home," Aukai Kea said. "We are playing for Hawaii. That's why we are here. It's who we are playing for. I just pitched my heart out and did as best as I could."
Kea, who hit the game-winning home run in the first contest against Peachtree City, was outstanding. He struck out 15 batters, threw a complete game, and didn't let a single player touch second.
He was dominant start to finish and finally received run support from his team in the fourth inning when Caleb Okada hit a double. It was just the West's third hit of the game, but Ka'olu Holt immediately made the most of it during the next at bat as he connected with a single to score the first run of the game.
An intentional walk issued to Yamaguchi in the fifth gave the West a baserunner with two outs. Bruce Boucher hit a triple down the left field line to score Yamaguchi. Jace Souza connected with a single on the next at bat to set the final score.
"I'm very proud of them," Honolulu Manager Oda Gerald said. "It's really enjoyable when you get to play a team like Georgia. We joked around saying the teams that seemed like they were having the most fun playing got to play each other in this game."
After Yamaguchi was issued the intentional walk both Connor Riggs-Soper and Tai Peete yelled to him on first and told him the walk was their idea. Peete could also be seen after the game being consoled by the Honolulu players as he walked off the field.
"Through the weeks we got to build a relationship with them especially with Tai," Kai said. "He's a cool guy. We just tried to pick him up, because that's what friends do when others are down."
Aukai Kea was once again on as he faced the Peachtree City lineup for a second time. He fanned the the first three batters he faced and put a string of eight consecutive outs together to bridge the fourth, fifth, and sixth innings. Kea finished with 15 strikeouts as he face his team a complete-game effort to help it advance to the Championship.
"The kids have been really tight we each other even before our first game," Gloriod said. "They were all hanging out with each other and talking and I was actually the same way with their coaches."
It's exactly what the team from Peachtree City was all about as it wished Honolulu luck in the championship. The group of players even exited their dugout after the game to give their parents, fans, and coaches a round of applause as it exited the field. — Reported and photographed by BRETT R. CROSSLEY, special to The Citizen
======================================
Honolulu 3, Peachtree City 0
PTC 000 000—0 3 1
HON 000 12X—3 6 0
Connor Riggs-Soper and Chase Fralick. Aukai Kea and Bruce Boucher.
WP: Kea. LP: Riggs-Soper.
Top Peachtree City hitters: Tai Peete 2-3. Top Honolulu hitters: Hunter Nishina 1-1, 2B, run; John De la Cruz 1-1, 2B, RBI.
Records: Peachtree City 4-2. Honolulu 4-0.
Next: Honolulu, HI vs. Seoul, South Korea at Lamade Stadium, Sunday, 3 p.m. Peachtree City, GA vs. Kawaguchi, Japan at Lamade Stadium, Sunday, 10 a.m.