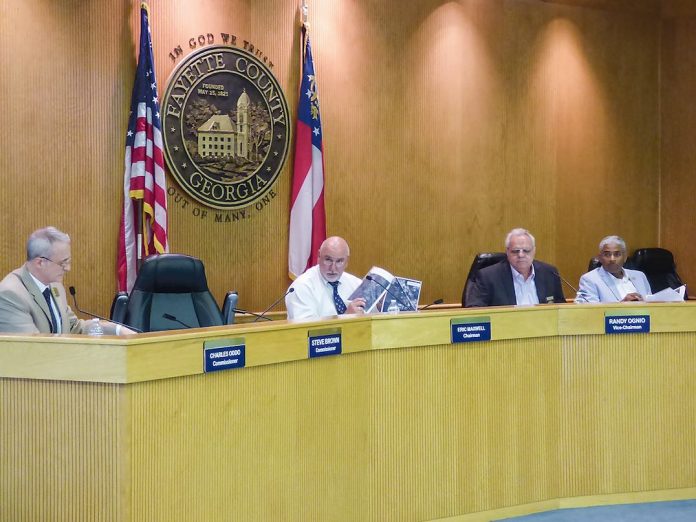 A recent informational meeting on the new Atlanta Region Transit Link Authority (The ATL) provided a few answers to questions pertaining to Fayette County. Meantime, the 10 ATL districts are about to begin electing representatives to The ATL board.
The ATL is the 13-county transit authority adopted by the Ga. General Assembly in the 2018 session. Now in the process of organizing, the ATL is divided into 10 districts, with Fayette, Coweta, portions of Clayton and Henry counties and a small section of south Fulton making up District 10.
A report on the informational meeting was presented by Fayette County Commissioner Randy Ognio at the commission's July 26 meeting.
As The ATL process unfolds, electors from each district sometime in August are expected to hold an initial mayoral caucus attended by electors for each district to hear a presentation by ATL staff. Electors include state legislators, mayors and county commission chairs, all of whom will later vote on the district representative. The term for the District 10 representative to The ATL board is four years.
Chairman Eric Maxwell in brief comments said he would fight the idea of buses in Fayette County, adding that he would consider supporting seniors with transportation issues.
Ognio and Public Works Director Phil Mallon brought back the answers to several questions obtained at the informational meeting.
Questions and answers were:
Is Fayette County required to participate in the new ATL? — By state law (House Bill 930) Fayette County is part of The ATL but there are no participation requirement, either financially, administratively or otherwise.
Does Fayette County have to vote to be in The ATL? — No. Fayette County is automatically already part of the ATL per House Bill 930.
What if the Fayette County Commission does not vote at all? — The only county vote is for selection of the District 10 board member. A no—vote would result in the board member being selected from up to 30 other eligible District 10 voters.
What are the consequences of not participating? — None, other than lack of coordination/insight of what surrounding counties are doing with respect to transit projects and programs.
If Fayette County opts out of participating (or more precisely, doesn't vote to be included) in The ATL can the other four counties force transit into Fayette County? — Unknown. The ATL staff stated that is not the intent of the legislation. They want to promote projects that are supported by the local governments. The legislation is clear, however, that the only way a SPLOST tax for transit (as per HB 930) can be instituted in Fayette County is by a referendum approved by Fayette citizens.
If Fayette County opts out, can the other four counties collect taxes from Fayette County to be spent outside of Fayette County? — No. A transit SPLOST tax can only be collected in Fayette County if the Fayette County Commission develops a SPLOST referendum and it is then approved by Fayette County voters.
Are Demand Response (public shared—ride service in small/medium vehicles) transit services eligible under a transit SPLOST? — Yes, this type of service could be partially or fully funded with a county SPLOST. The size and duration of the SPLOST can be up to 1 percent (in any 0.05 percent increment) and up to 30 years in duration.
The general timeline for The ATL process shows holding all 10 mayoral caucuses in August and holding all district elections by mid—November. All ATL board members should be in place by Dec. 1.