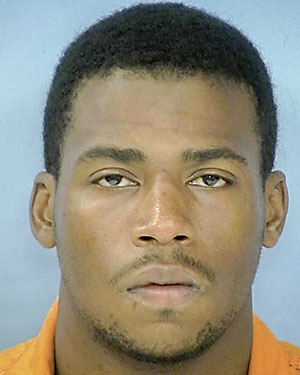 Jeffrey Wallace was one of three Atlanta men sentenced to life without parole in the June 2017 home invasion and murder of south Fayette County resident Albert DeMagnus. Photo/Fayette County Jail.
The three men charged in the June 23, 2017 home invasion and murder of 74-year-old south Fayette County resident Albert DeMagnus were sentenced on May 21 in Fayette County Superior Court to life without parole.
Twenty-year-old Travione Reynolds, 21-year-old Atlanta resident Kavion Tookes and Jeffrey Wallace, 23, also of Atlanta, were found guilty of home invasion and murder, according to Fayette County District Attorney Ben Coker.
The sentence comes with life in prison without parole, Coker said. Coker said the three men on May 21 entered non-negotiated guilty pleas to an indictment charging them with multiple counts including malice murder, felony murder, home invasion, armed robbery, aggravated assault, kidnapping, firearm charges, burglary and theft by taking. Tookes and Wallace also pled guilty to fleeing and attempting to elude police officers. Tookes pled to an additional charge of attempted removal of a weapon from a public official.
"These three defendants will spend the rest of their lives in prison," said Coker. "This case was a nightmare for the victims, and it represents the nightmare of each and every citizen in this circuit. These three defendants showed no mercy on the victims on June 23, 2017, when they violently entered their home, committing murder and stealing property. My office, along with law enforcement, will not tolerate such a callous disregard for human life. Let this sentence be a statement. As a team, law enforcement, my office and the citizens of this circuit will not stand silent and tolerate such crimes. We will continue to fight as a team for justice to be handed down in the form of the harshest sentences available in order to keep the citizens of Fayette County safe."
Referencing the June 23, 2017 incident, Fayette County Sheriff Barry Babb at the time said DeMagnus' wife awoke in the early morning hours to a disturbance in the Lake Horton Landing Drive home, thinking the noise came from a television.
But it was the attack on her husband and the struggle that was occurring that the woman witnessed, said Babb.
"It was a violent intrusion and it was traumatic for the wife," Babb said.
DeMagnus was transported to Piedmont Fayette Hospital where he was pronounced deceased.
"Through very determined and excellent work on the part of law enforcement, the three defendants responsible for this murder were apprehended. Their work coupled with the courage and cooperation on the part of the victim's family enabled the case to be successfully prosecuted," said Deputy Chief Assistant District Attorney Warren Sellers. "At the sentencing hearing the victim's wife described the night her husband was killed in their home as a 'nightmare' and testified that 'images' of the attack 'continue to play in her mind."
Commenting on the outcome, Coker said "I am proud of my office, the Fayette County Sheriff's Office, the surviving victim and family members for standing up against evil during the investigation of this case. Today, good prevailed over evil in the courtroom. A person's home should be their castle, and everyone should feel safe in his or her home."
Coker, Sellers and Assistant District Attorney Dan Hiatt represented the for the state.