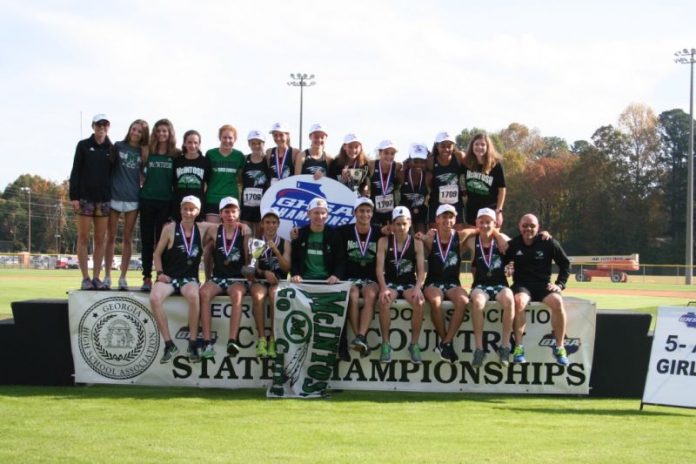 The cross-country season could not have ended any better for McIntosh High School, with the boys and girls squads capturing a pair of AAAAA state championships in last weekend's state meet in Carrollton.
Starr's Mill was right on the Chiefs' heels with second place for the boys and third for the girls. Whitewater's boys placed seventh and girls came in sixth, while Fayette County was 25th and 26th.
Nick Nyman of Starr's Mill was the individual winner in the boys race at 16:09. McIntosh racked up points toward the title with Zach Jaeger (16:25) coming in third and Vladi Zander-Velloso (16:53) fifth. Thomas Hall of Whitewater (17:16) placed ninth, Ty Duben of Starr's Mill (17:18) was tenth and the McIntosh tandem of Alex DeBoy (17:23) and Rease Henry (17:34) crossed the finish line 12th and 16th.
On the girls' side, McIntosh won with 52 points based on four of the top 10 runners and five of the top 25. After Erin Leonard of Jones County crossed the finish line at 18:43, Megan Uszynski of Mcintosh (19:31) came in second. The 7-10 runners were all from Fayette schools: Kayla Rose of McIntosh (19:50.79) was seventh, Hannah Moore of McIntosh (19:51.22) was eighth, Darbie Olive of Starr's Mill (19:51.47) was ninth, and Zoe Smith of McIntosh (19:57.88) was tenth. Whitewater's top runner was Ashley McMahon (20:52.40) in 22nd place, and Fiona Tetreault of McIntosh (21:04.11) came in 25th as the final runner to score for her team.
Landmark's girls won their fourth consecutive state championship in the A Private classification. Individually, Mary Kellison Thorne (19:33) was first to cross the finish line, and her teammates were not far behind — Erin Fegans (20:08) was fifth, Sarah Foreman (20:10) was sixth and Lindsey Biggar (20:58) was seventh.
For the boys, Landmark finished the weekend as the state runner-up after two straight championships. Top individual finishers included Zackary Truitt (17:09) in third, Kameron Jackson (17:42) in eighth and Jack Drury (17:49) in tenth place.
Landmark has won the boys' state championship 10 times since 1995 and the girls have captured 11 state crowns since 2003.
The AAAAAAA races saw Kyle Harkabus of East Coweta finish third overall (16:20) and his team capturing 17th place on the boys' side. The girls came in 11th as a team without a runner in the top 50.
Northgate's boys were 13th and girls were 15th in AAAAAA. The Sandy Creek boys finished in 24th place in AAAA.