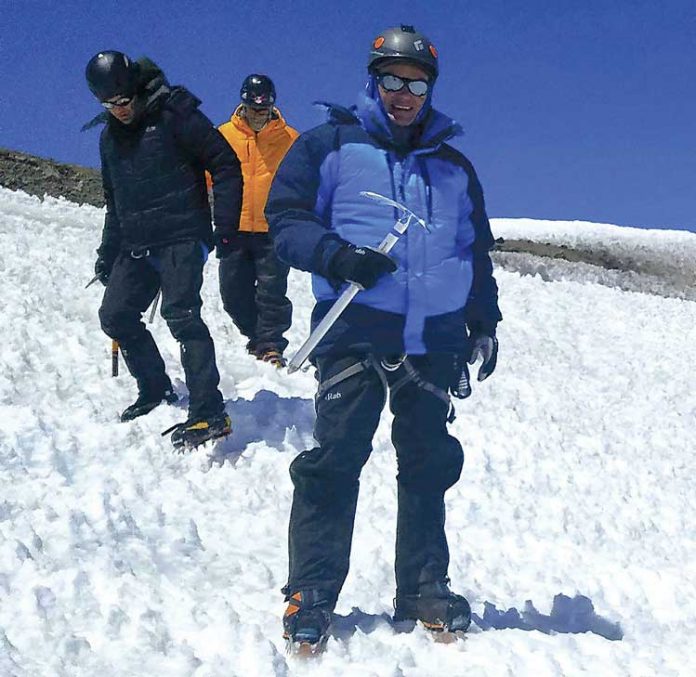 By Joni Ahart
Special to The Citizen
Dan Ahart, 61, a long-time Fayetteville resident, successfully climbed and summited Mt. Rainier on July 20. Mt. Rainier is located near Seattle, Washington. At 14,410 feet, it is the fifth highest peak in the continental U.S. Dan's climb required him to be on the glaciated mountain for three days, climbing to two different camps the first and second day and to the summit on the third day. The weather at the summit proved extremely challenging with wind chills of -4 and 40 miles per hour winds.
In 2013, Dan nearly lost his life when he developed a deep and complicated lung infection. After a 15-day stay in two different hospitals and a life-saving emergency surgery, he was able to return to his home. He was barely able to walk up the driveway with assistance.
---
Dan Ahart is in the blue jacket holding an ice axe. The other two are team members of the expedition. Photo/Submitted.
---
After a long recovery period, Dan focused on his health and physical fitness level, realizing that life is fragile and each day is not guaranteed.
He began hiking the mountains of North Georgia and the Smokies of East Tennessee. Hiking led to an interest in high altitude climbing and the grueling training began.
Dan climbed in the Alaskan Mountain Range and Mt Baker in Washinton, but was turned back from the summit due to extreme and unsafe weather conditions.
Finally, last month, he accomplished his dream by reaching the summit of Mt. Rainier, his highest and most challenging climb yet.