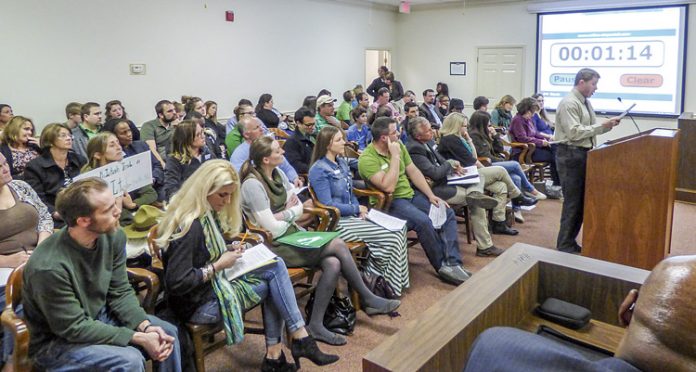 The parents of children from Huddleston Elementary School in Peachtree City voiced their concerns to the Fayette County Board of Education on Feb. 27 about a proposal to redistrict more than 30 students to Oak Grove Elementary School.
'We're being pushed out for homes that don't exist yet'
Chairman Barry Marchman in addressing the spot redistricting on Tuesday said the impetus behind the initiative is the result of the recognition by the school system that overcrowding exists in a few schools.
"We've started the conversation about how to address the overcrowding," Marchman said.
Superintendent Dr. Joseph Barrow on Tuesday said the school system is trying to be thoughtful and proactive with the reality of coming residential development in Fayetteville and Peachtree City, "without finding ourselves later at the edge of a cliff and in crisis" by not having acted sooner. Barrow noted that, with the continued population growth of the county, the day is coming when there will have to be a larger redistricting re-boot.
Former school system Deputy Superintendent Sam Sweat headed the redistricting committee. Sweat noted that the committee had met with Huddleston parents and brought a number of questions from parents to the school board. Answers to those questions were provided to school board members for their review and consideration.
Prior to the agenda topic being heard, nearly a dozen parents spoke during the public comments portion of the meeting. Among the parents speaking during public comments were Jonathan and Juanita Herrera, Evan Martin, Christy Daniels and Peter Davis. Parents cited a number of issues, such as the distance to school after redistricting, special permission students attending Huddleston, the citing of a "band-aid" approach to the redistricting proposal and questions about why their school is being targeted.
"It's not about 34 students (at Huddleston). It's about every school in Fayette County. We're facing a crisis and we need long-term solutions," said Daniels, taking a global perspective on the issue, then bringing the topic back to Huddleston. "We're being pushed out for homes that don't exist yet."
Her reference was to a long-established school system decision to have approved, but as yet unbuilt, homes east of MacDuff Parkway in the west village of Peachtree City districted for the Booth Middle and McIntosh High feeder pattern. Students living on the west side of MacDuff Parkway will attend Flat Rock Middle and Sandy Creek High.
"We're trying to do the least invasive procedure rather than impacting a whole area," said Barrow during the Feb. 27 discussion, adding that the school system is trying to move at the right speed in anticipation of the eventuality of new residential construction.
School board members during their discussion noted a number of the points surfaced by parents. Board member Brian Anderson said he wanted to look at the children attending Huddleston by special permission and at the upcoming Everton subdivision in Peachtree City. Special permission students are those who, when enrollment permits, attend a school out of their district provided parents handle transportation issues.
"We're victims of our own desire to accommodate parents' requests provided they transport their child," Barrow said.
Sweat said there are 24 special permission students at Huddleston, not counting the children of staff. The school system currently has has 1,400 special permission students.
The school system redistricting committee met Feb. 28 with parents of Spring Hill Elementary and Fayetteville Elementary students. With 20 students affected, the committee recommended that enrollment pressure on Spring Hill would be relieved by having students living on the north side of Ga. Highway 54 attend Fayetteville Elementary. Sweat is expected to report to the school board on that meeting in March.
The school system redistricting committee in early February recommended several spot redistricting measures for the coming school year.
One of those pertains to elementary students living in the Villages at Lafayette development adjacent to Fayette County High School. The proposal recommends that the 20 students living in the development begin attending Fayetteville Elementary School rather than Spring Hill Elementary School for which they are currently zoned.
The move would relieve the student population at Spring Hill and is in closer proximity to Fayetteville Elementary, the committee said.
Fayetteville Elementary has a current enrollment of of 458 students, a local capacity of 465 students and a state capacity of 585 students.
Spring Hill has a current enrollment of 715 students, a local capacity of 738 students and a state capacity of 775 students.
The other redistricting that would impact students next year deals with 34 students on South McIntosh Trail currently attending Huddleston Elementary School. Those students are proposed to attend Oak Grove Elementary School. The location is closer to Oak Grove and will help relieve the student population at Huddleston, the committee said.
The current enrollment at Huddleston is 624, while the local capacity is 615 and the state capacity is 637 students.
The current enrollment at Oak Grove is 513 students. The local capacity is 588 and the state capacity is 662.
Other recommendations include having elementary students at the future Oakleigh Manor subdivision off Redwine Road in south Fayetteville attend Spring Hill. The new residential development will include approximately 70 homes.
Elementary students, if any, who will live at The Meridian at Lafayette luxury apartments, the new development at Ga. Highway 54 and Lafayette Avenue, would attend Fayetteville Elementary. Two-bedroom apartments at The Meridian range between $1,299-1,590 per month. Those with three bedrooms range from $1,850-1,910 per month, according to trulia.com. The development is currently zoned for Spring Hill.
The committee commenting on future considerations recommended adding 8-10 classrooms at McIntosh High School, adding on to Inman Elementary if additional homes are built in the area, potentially re-opening Tyrone Elementary with a sewer connection to help with growth at the West Village area in Peachtree City and the upcoming Pinewood Forrest development in west Fayetteville.
The committee also noted the potential need for adding classrooms at Whitewater High and Sandy Creek High, and re-opening Fayette Intermediate School on Hood Avenue.
Redistricting is always a sensitive topic for parents. The most recent evidence of that reality in Fayette County came in 2013 with the closure of four schools and the district-wide redistricting. School board members faced pleas and threats from some of the more than 900 people attending one of the meetings at Sams Auditorium in Fayetteville. The school board, after multiple meetings, voted to close four schools in Fayetteville, Tyrone and Brooks.
Time will tell what will result from the current redistricting proposal. Board members will likely continue to hear from parents and staff before making a decision impacting students.