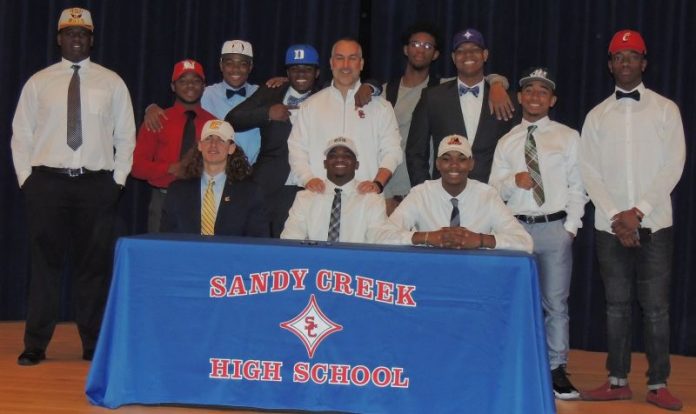 By RUSSELL COOKS
russell@TheCitizen.com
A total of 14 athletes at Sandy Creek High School signed letters of intent this week on National Signing Day.
Eleven of those were football players. It had been reported last month that there were 44 former Patriots on collegiate rosters around the country, one of the highest numbers in the state.
Signees for other sports include: Thomas Farr, baseball Northwest Florida State College; Kasey Toles, basketball, Kent State; and Kendall Wilson, volleyball, Georgia Tech.
The list for football is as follows:

Isaiah Appling, Newberry College.

Jalen Greene, University of Cincinnati.

Javan Hawes, University of Cincinnati.

Marvin Hubbard, Duke University.

Mychael Jenkins, Delta State University.

Parker Mallett, University of Tennessee-Chattanooga.
Cole Neely, Furman University.

Drezyn Parson, Jacksonville University.

Savon Simmons, Kennesaw State University.
Colby Warrior, Morgan State University.

Herbert Washington, Berry College.