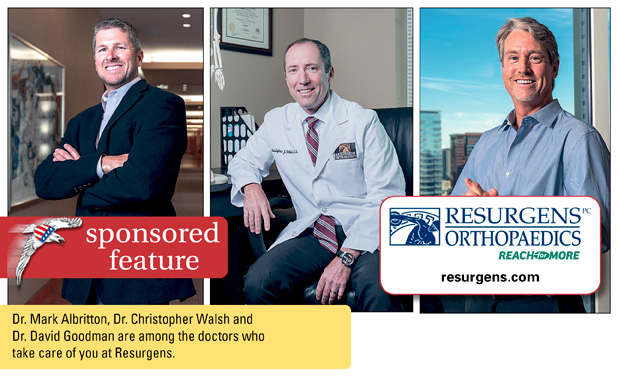 Sponsored Feature
With more than 30 years in practice, 21 locations across metro-Atlanta, and nearly 100 fellowship-trained physicians, Resurgens Orthopaedics is one of the most established practices in the region. The group serves four local locations – Fayetteville, Griffin, Morrow, and McDonough – for a wide range of specialties including foot and ankle, hand, joint, hip, spine, trauma, sports medicine, and general orthopaedics. Each location also offers a rehabilitation center and imaging, with a dedicated surgery center in Morrow. A second surgery facility and spine center is also coming to the Fayetteville location in summer 2017.
"We're dedicated to providing care across the orthopedic spectrum," says Dr. David Goodman. "Our practice includes specialists and staff to support virtually any need, and we've been part of this community for a long time. We've seen it grow and we look forward to being part of future growth together."
Accessibility and convenience also set Resurgens apart, as Dr. Mark Albritton notes. "You don't have to drive into Atlanta to receive the specialist care you need," he says. "You can find it right here at home with Resurgens."
Dr. Christopher Walsh says communication is key to providing world-class care. "We believe in involving the patient in the discussion," says Dr. Christopher Walsh. "We explain the diagnosis, discuss the options, and then come to a mutual decision about the best course of action. The best care is informed care, so this team approach is very important to us."
This dedication to excellence is part of Resurgens' commitment to provide excellent, innovative, pat
ient-focused, and comprehensive care to patients in their own communities. "This is our community, just as it's our patients' community," says Dr. Gary Stewart. "We're very invested in our patients and in the area. That's why we're insistent on providing top care. We've been very careful to assemble physicians with the kind of training and experience you'd see in an academic institution. Our patients deserve the best and we always strive to provide it."
For more than 30 years, Resurgens Orthopaedics has provided surgical and non-surgical treatment options, patient education, imaging services, and therapy in a caring, patient-centric environment. The practice includes physicians and technicians experienced in an array of orthopaedic specialties at more than 20 locations across metro Atlanta, including those in Fayetteville, Griffin, Morrow, and McDonough.
 Physician and tech specialties include foot & ankle, hand, joint, hip, spine, trauma, sports medicine, and general orthopedics
Surgical and non-surgical options available, including rare, cutting-edge procedures
Full rehab and therapy facilities
Works with most insurances and workers' compensation claims
More than 20 locations and nearly 100 fellowship-trained physicians across metro-Atlanta
Dedicated non-infectious surgery center in Morrow; additional surgery center opening in Fayetteville, summer 2017