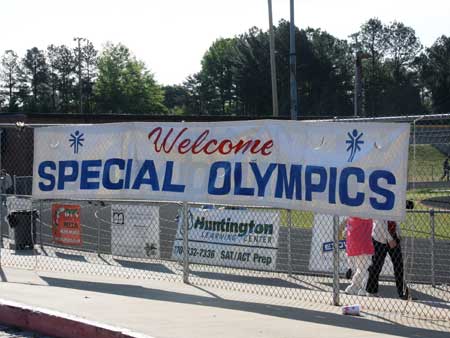 It has been a busy couple of months for the athletes of Fayette County Special Olympics.
It started in August in Warner Robins for State Masters Bowling for ages 22 and older.
Individual Bowlers were: Bryon Bartley (gold), Carl Bartley (silver), Tina Bedwell (silver), Debbie Fogg (silver), Randy Fogg (gold), Erin Hoffman (bronze), Jacob Kendrick (fourth), Brandon Mains (gold), Brittni New (gold), Jonathan Oswalt (bronze), Caroline Parker (gold), Kirsten Simon (gold), Thomas Reed (silver), and Jamie Waters (gold).
There were also 12 unified bowling teams, each consisting of two Special Olympics athletes and two non-SO competitors.
Pin Pushers: Buddy Croft, Kat McCarten, Joel Norris, Pam Allen – Bronze
Turkeys: Ben Isbell, Joey Martin, Steve Bonacci, Carl Isbell – Bronze
Party Animals: Lee Spradlin, Jon Vicha, Kathy Padia, Lisa Spradlin – fourth
Rock Stars: Steven Ochoa, Michael Pritchett, Herbert Honrath, Lori Ochoa – fourth
Fab 4: Sydney Brown, Allison Romano, Sharon Brown, Colleen Romano – Bronze
Elbow Benders: John Butler, Amber Tino, Kim Harden, Terry Harden – Silver
Gutter Gang: Owen Apfel, Jamie Baggett, Melissa Bowers, Linda Peterson – Bronze
Party People: Keenan Allen, Shannon Waldrop, Patti Keeney, Christine Harper – fourth
Bowling Stones: Phillip Evans, David Gray, Anita Godbee, Betty Parrish – Gold
Living on a Spare: Libby Chesnut, Joshua Vogler, Sara Allegood, Debbie Parrish – Silver
Superstars: Cory LaMonde, Tyson Smith, Joanne LaMonde, Tom LaMonde – Gold
High Rollers: Alex Simmons, David Washburn, Cheryl Feltman, Carol Washburn – Bronze
September activities included a sailing regatta at Lake Norman, just outside Charlotte.
Sailing in a Level 3 competition, where an athlete drives the boat in the back were Erin Hoffman, Buddy Croft, and Alan Sloman. They received a gold medal.
Sailing on a 420 boat was Joshua Edwards and Stephanie Lise. They came in fourth.
Sailing in a Level 1 competition, where the athlete is in the front of the sailboat and a unified partner is driving the boat in the back:
Ben Isbell & Leah Walker: fourth
Shannon Waldrop & Dana Walker: Bronze
Keenan Allen & Debbie Parrish: Gold
Unfortunately, the rest of the crew weren't able to complete races, but had a great time out on the water. Each of these teams received a participation certificate:
Michael Crofton & Alan Sloman; Khoury Dunlap & Steve Bonacci; Patti Keeney & Dylan Starr; Joshua Sloman & Sam Wooten; and Sydney Brown & Anita Godbee.
Fayette County concluded their state competitions with State Fall Games in Gainesville in early October.
Wild Bunch Softball Team (gold medal): Keenan Allen, Carl Bartley, Khoury Dunlap, Jacob Kendrick, Brandon Mains, Wanda McConnell, Ojo Miller, Thomas Reed, Kirsten Simon, Yosuf Stoman, Amber Tino, and David Washburn. This team was coached by Pam Allen, Michelle Jett, Patti Keeney, Chuck McConnell, and Bill Tino.
Blue Meanies Softball Team (fourth place): Owen Apfel, Jamie Baggett, Keith Bell, Joshua Edwards, David Gray, Justin Lucks, James McDaniel, Jonathan Oswalt, Cameron Peace, Alex Simmons, Tyson Smith, and Kai Yee. This team was coached by Kim Harden, Tonyia Lucks, and Dennis Vicha.
Bloodhounds Softball Team (gold medal): Sydney Brown, Ethan Harris, Benji Hou, Ben Isbell, Cory LaMonde, Joey Martin, Brandon Maske, Maggie Maund, Steven Ochoa, Joshua Owens, Allison Romano, and Jon Vicha. This team was coached by Terry Harden, Ann Isbell, Carl Isbell, Joanne LaMonde, Tom LaMonde, and Colleen Romano.
High Rollers Bocce (fourth place): John Butler, Phillip Evans, Helena Fickling, and Brittni New
Rock Stars Unified Bocce (silver medal): Mario Duffy, Ryan Smith, Betty Parrish, and Debbie Parrish.
Fab 4 Unified Bocce (silver medal): Libby Chesnut, Jackson Lester, Chynna Campbell, and Ashleigh Lester. All bocce teams were coached by Anita Godbee.
Clothes Less Traveled sponsored the team's motor coaches to Warner Robins and Gainesville.
For more information about Fayette County Special Olympics, contact Debbie Parrish at dparrish@fayettecountyga.gov.