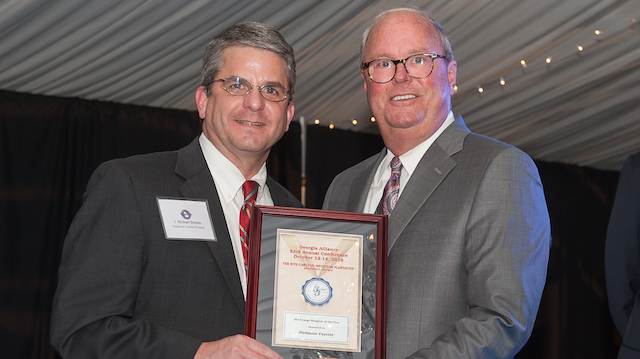 Piedmont Fayette Hospital in Fayetteville was named 2016 Large Hospital of the Year by the Georgia Alliance of Community Hospitals (the Alliance) at its 33rd Annual Conference, held last week.
The award highlights the impact of member hospitals on individual patients, the health and wellness of Georgians, and the quality of life of their communities. The Alliance selected Piedmont Fayette Hospital for its demonstrated commitment to improving access to care and expanding critical health services.
"We're obviously very proud when we earn any kind of award or recognition, as it demonstrates our commitment to providing excellent care to our patients," said Piedmont Fayette CEO Michael Burnett. "What makes this award stand out is that it also recognizes the difference we make outside of the walls at Piedmont Fayette and how much we care for the community."
Piedmont Fayette Hospital has increased the availability of healthcare services to indigent members of the community by providing free Laboratory Screening, Diagnostic Testing, and flu shots through two community clinics and providing free healthcare to eligible uninsured low-income adults. The hospital also created and distributed educational materials on heart disease, hypertension, and stroke in both English and Spanish to promote healthy lifestyle changes and reduce risks.
Partnering with Fayette County Schools, Piedmont Fayette developed a three-year plan to implement Concussion Testing Protocols for student-athletes and conduct baseline screening for all students.
Piedmont Fayette also worked with Fayette County Schools and Southern Crescent Technical College to develop a program to bring Allied Health students into a Certified Clinical Medical Assistant Program, giving them training, job opportunities, and a head start on further education to work in the medical field.
"The Georgia Alliance of Community Hospitals is grateful to Piedmont Fayette Hospital for its unwavering commitment to improving the health of local community members and is proud to recognize Piedmont Fayette as our 2016 Large Hospital of the Year," said Alliance President, Monty Veazey. "Piedmont Fayette's partnership with the Fayette County Schools is a model of pro-active community involvement to improve the wellness of Georgia residents."
Earlier this year, Piedmont Fayette was named a recipient of Healthgrades' America's 50 Best Hospitals award for the second year in a row.
Pictured with Burnett is Georgia Alliance of Community Hospitals President Monty Veazey.