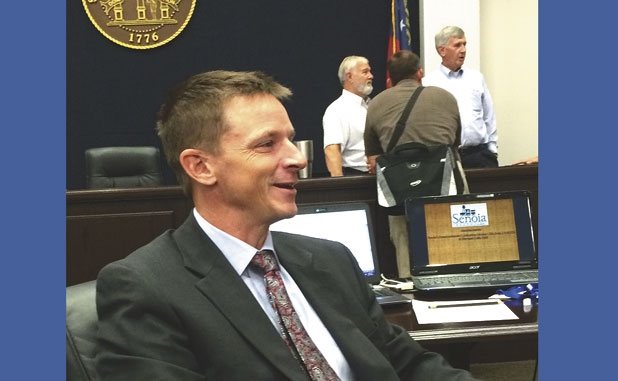 After 11 years of overseeing Senoia City Council meeting as the city manager, Richard Ferry quietly left the building after his last council meeting Monday night.
Ferry heads to the planning and development environs of Fayetteville-based Scarborough and Rolader Development on Oct. 1 and start his career in the private sector.
Ferry said he's been approached before, but this was an opportunity that he mulled over for a while.
"There are just some opportunities that you can't pass up," he said.
But 11 years ago, Senoia and Ferry were two different entities. Senoia had just over 1,600 people and a shell of a downtown, while Ferry was teaching middle school social studies at Evans Middle School in Newnan.
Ferry's dream job at the time was to teach economics and coach soccer at Northgate High School. He had applied for the teaching job three times, but was not selected. But the fourth time was the charm, and he was offered the position. However, at the same time, Ferry was also called in for an interview to be Senoia's new city administrator.
"I didn't think i would get, because I was earlier turned down to be on the city's Planning Commission," he said.
Ferry believes there were only three applicants and Mayor Bob Hannah decided to take a chance on him. With two job offers, Ferry now had to make a choice and sought the wisdom of his principal at Evans, Jerry Davis.
"He said how many times is a social studies teacher going to get a chance to be a city administrator. You can always get a teaching job," Ferry said.
That sealed the deal, and Ferry headed to Senoia.
When he first started the job, his desk was covered with issues that needed to be addressed. Ferry slowly worked through the issues and leaves behind a city of nearly 4,000 people and a bustling downtown. Ferry said one decision the City Council made created the contemporary Senoia.
"When the council decided to pursue providing sewerage for the city, that changed everything," he said.
When Ferry leaves his position Oct. 1, Police Chief Jason Edens will assume the interim role as city manager. Ferry said Edens has the largest amount of institutional knowledge about the city, along with budget management and people skills.
There is no time table for hiring a new city manager, but more than 50 applicants from around the country have submitted resumes.
As he got ready to leave the meeting room Monday night, Ferry was optimistic about the city's future.
"The city will be just fine," he said.